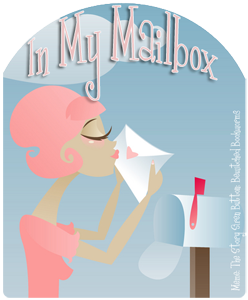 The idea is to post the books you got this week,
whether you bought them, got them as a gift,
from the library, or received them to review.
Today I have a special IMM edition for you, so it will be a lill longer – Hope you stay with me anyway! I was at the Frankfurt Book Fair last Saturday and I got so many good books and I meet so many great people that I have to tell you about my Journey today.
First, I didn't want to go there since I'm from Munich and Frankfurt is 4 hours away from here plus I can only go on the weekend, and well, you can guess I assumed it would be super duper crowded. But hubs said "You are reading like crazy, you love your Blog – You simply have to go there!" and then he bought me a Train ticket. Awesome hu? Well, and then I saw the Maggi Stiefvater will be there for a book signing!
So I left home Saturday morning at 6 to catch the train to Frankfurt and of course I brought me Kindle and read Firelight on the way to Frankfurt! ( AWESOME book btw). For those you have never heard of the Frankfurt Book Fair – it's epic, it's BIG, it's one of the biggest worldwide. Overwhelming much…?!
German Shiver cover
Anyway, I was lucky enough to got a Press Accreditation and got in for free! Woho! My first stop was at the lady's from
script5
. This is a German Publisher specialsed for YA books and they publish the Shiver series from Maggi. I was having a wonderful chat with the ladys there about eBooks and the differences between German and US publishing industry. For instance, in Germany you are not allowed to give away boks at the Fair – which is too bad, but this is how it is. I also asked why they usually change the covers and not simply take the original cover. But, they have incredible young artists working for them so they wanted to give them the chance to work on those covers. Honestly, they did an amazing Job for Shiver!!! It turned out so beautiful!
After I stopped there I went to the Hall 8 which is where the US and UK publishers were located. After the first shyness I went to Penguin UK. They had tons of copies from
"I Am Number 4"
and I talked to a really nice lady about this book. I read it some time ago and I loved it! So she super nice and gave me a copy!! Then I was talking to a guy from Penguin US who gave me a hardcover copy of
"Lover Mine"
and
"Crave"
the second book in the Fallen Angels series from J.R. Ward.
I moved on and saw a huuuugeee poster of the "
Iron Daughter
" at the stand from Harlequin. And those girls working there are AMAZING! The first thing they said after I told that I have a Book Blog one of them said"
Oh we love you guys, you are amazing
" of course she meant all of us Book Bloggers! Then we started chatting and I told them how much I love and adore the Iron Fey books and that we are planning an Iron Fey giveaway. Well, she immediately ask me if I want to have some books for the giveaway. But if course, how could she even ask! Then she took all the remaining Iron King and Iron Daughter books they had and asked if I want to take all of them! Seriously???? I was stunned, and thrilled and couldn't believe it, but she was serious! So they gave me 6 copies of
"
Iron Daughter"
and 7 copies of
"
Iron King"
! Can you believe it? I couldn't! So look out for a big giveaway!
After this shock we kept talking about books and she said she's dying to read J.R. Ward's "Crave" and since I just got the copy from Penguin I just handed it to her and she was so happy and said "You just made my day" Well, they made MY day! They gave me more books that I can carry!
One of the ladies loved
"Mob Rules"
from Cameron Haley so much that she said I have to read. I haven't heard from this book so I will definitely give it a try! I also got a copy from
"Intertwined"
and
"Sins of the Heart"
. I was there for about half an hour and I had a blast talking to them, we talked a lot about The Iron Fey saga and also other books, they read and loved and I read and loved! And of course I told them they have to read The Fever series!
Honestly, the stop at Harlequin made my day and this alone was worth going to the Fair!
I made my round and in total I got around 25 books. Can you imagine me carrying all of them? I can tell you It.Was.Heavy!!!!
crowded!
Then I went finally back to the stand from Script5 to see Maggi Stiefvater and get my books signed. It was super crowded. but it was worth seeing Maggi. She is adorable! She told some funny stories about how she got the idea to write about Werewolves and other funny stories. Then I waited patiently in line to get my books signed, I bought Shiver and Linger (hardcopies) to give them away on the blog and I bought the German version (simply because I adore the cover – I probably won't read it in German but I simply wanted to have it…. She also took her time so that I could get a Photo with her.
After this I was just looking around a bit more, but I got everything I wanted and more than I wished for an was ready to go home.
All togther, this was an epic day – I had a blast, although I was really exhausted in the end. And all those books???? Some of those books we will give away here on the blog, so keep your eyes open!
all the books that found a new home at my place!
Bottom Line?
The girls from Harlequin rocked my socks and made my day!
Frankfurt Book Fair was epic!
Maggi Stiefvater is a doll and simply adorable!
Ok now, tell me: What's in your mailbox?!
The following two tabs change content below.
Related Posts