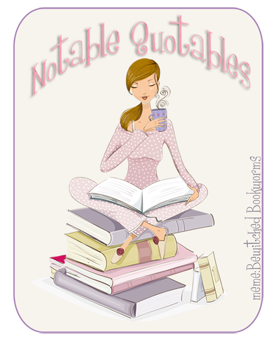 Welcome to Notable Quotables! Not sure exactly what you're supposed to do to be a part of the meme? Check out our first post
here
.
Notable Quotables is a meme we started here at Bewitched Bookworms to share some of our favorite quotes in the books we've been reading. We think it is a fun way to find out a bit more about each other as book bloggers and to share everything from great snarky zingers to sigh inducing avowals of love.
Anyone can participate in this meme and it really can be any quote from any book, no matter the genre. So get creative and share something fun!
Here's our quote for the week:
"Do you believe in fairies?" he cried. "If you believe," he shouted again to sleeping children eveywhere, "clap your hands, so Tink can hear. Don't let her die."

Peter Pan
Adapted by Phoebe Wilson and Illustrated by Ruth Wood
I'm at my folks house for the holidays and went through a few books to find something different to read tomy kids and I found this tattered old book. I LOVED this story, and it was one of those long books that my parents would only let us read a couple of chapters before bed. And I always choose the Tinkerbell dying part. Did this foreshadow my love of angst and fairies? Who knows, but my son was enraptured with the story as well. My daughter hated it so much she threw herself from the stairs and broke her collar bone.
I kid, I kid.
Ok, the hating the story part isn't true, she was already in bed when I read this to my almost 6 year old. But my NQ post is late due to the collar bone part. *sigh*
If you'd like to share your Notable Quotable post, please be sure to sign the link list below!
For example:
Name: Bewitched Bookworms
URL: http://www.bewitchedbookworms.com/notable-quotables-10.html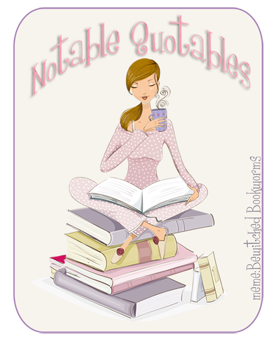 Feel free to use our button if you like
(you can just grab the code above).
Or if you prefer, make your own!
Have a wonderful Saturday!

The following two tabs change content below.
Related Posts