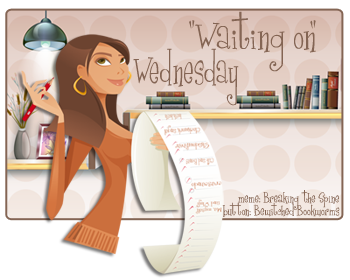 "Waiting on" Wednesday is hosted weekly by
Jill at Breaking the Spine
.
by Ally Condie
Release Date: November 30th
Here is the blurb from goodreads:
Cassia has always trusted the Society to make the right choices for her: what to read, what to watch, what to believe. So when Xander's face appears on-screen at her Matching ceremony, Cassia knows with complete certainty that he is her ideal mate . . . until she sees Ky Markham's face flash for an instant before the screen fades to black.

The Society tells her it's a glitch, a rare malfunction, and that she should focus on the happy life she's destined to lead with Xander. But Cassia can't stop thinking about Ky, and as they slowly fall in love, Cassia begins to doubt the Society's infallibility and is faced with an impossible choice: between Xander and Ky, between the only life she's known and a path that no one else has dared to follow.
Ever since I fist saw this cover, I knew I had to read this book no matter what. Stupid hu? And there you say don't judge a book by it's cover. I do that! But honestly when reading the synopsis I'm really excited to read this. Plus I've read some awesome Reviews around in Bloggyland… I think the set of the story in a world like this fascinating, are those matched based on genetics? This would be specially for me super interesting. Why is Ky malfunctioning?
I'm excited to find out! and here is an awesome Teaser Trailer:
So girls, which book are you dying to get your hands on?

Oh and you are of course welcome to grab and use our Button, just please cheesy link back to us 😉
The following two tabs change content below.
Related Posts