Hello, dear reader!!!
*Bookworms wave furiously!*
There's something in the air.
A crispness that tells of winter holidays approaching.
In the states we have celebrated our day of Thanksgiving
and have turned our eyes to the wonders of end of the year holidays:
Christmas, Hanukkah, Festivus…
well, you get the idea.
Anyway, in that spirit,
our resident web designer, Danny,
has spiffed up our page in holiday style.
We hope you enjoy it as much as we do.
It has really gotten us into the holiday spirit
here at Bewitched Bookworms!
And what would the holidays be with out gifts??
Pretty darn sad, that's what!
And you know how we Bookworms love to give stuff away, so…..
we're please to announce our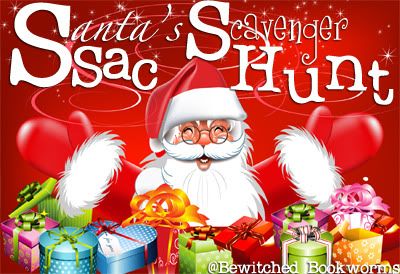 YES! For the first twelve days of December
we'll be hiding a little something in our favorite posts from the year.
Each day, we'll post a hint
for where you can find that day's gift.
Find the right post, click on the gift image you'll find there
and you'll be taken to a form where you can enter to win that day's gift!
Not sure you want what we're giving away?
Take a look at some of the books we're offering:
Included in the Daily Give-aways:
Sins of the Heart, Intertwined, The Fallen: Volume 1
Mistwood, Mob Rules, Thirst,
Rot & Ruin, Sea, Lover Mine, Mockingjay, Vacations from Hell
plus we'll be giving away a little something from one of our favorite Etsy shops:
Yeah, they're pretty awesome! AND if that weren't enough, each day, when you enter the contest, you'll be given a word to collect. Collect all twelve words and you'll build the magic sentence that will allow you to enter for the grand prize pack:
The Grand Prize Pack includes:
Signed copy of Mockingjay
Signed Copy of Sisters Red
Signed Copy of Leviathan
ARC of The Lying Game
Hardcover of I Am Number Four
Signed Crescendo Poster
Paperback of The Iron King
some Wicked Lovely temporary tatoos ..
and a Bookthingy!!!
Woo-hoo!!!! Well, we hope you're as excited as we are about this contest.
In fact it means
12 days
One winner each day
plus
One lucky winner who wins the Grand Prize at the end!
And as for rules, there really aren't any.
We aren't going to force you to follow us
(although we hope you will)
or re-tweet about the contest
(again, we'd be flattered if you did).
And you know we love our international contestants
as much as our US ones so, come one, come all!!!
Anyway we hope you'll join us from
December 1st through the 12th
for what promises to be a fun journey
through the Bookworms favorite posts.
Remember you can search through all of our posts
via the search box on the side bar:
Or you can use our lists in the link bar at the top
where we have our reviews sorted by Title and Author:
So get ready to play!!
And if you have a second, leave us a comment
and let us know what you're most hoping for this holiday season!
Oh, and for those of you who have never heard of Festivus….
Enjoy!

The following two tabs change content below.
Related Posts