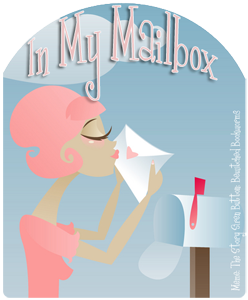 The idea is to post the books you got this week,
whether you bought them, got them as a gift,
from the library, or received them to review.
This week's blogger is cutie.
Hey party people!
How you doin'?
Wanna talk about the books we got recently?
You doooo.
Score!
*fist pumps*
Let's do this thing.


1. Books I got from B&N
This time around,
I did not buy myself a single book.
Shocking, eh?
I did, however, buy a few books for others.
Namely, my lil cuties.
My ten year old daughter adores the Whimpy Kid series,
so when I pre-ordered the fifth book as a surprise for her
I knew I was reaching epically awesome mom status.
Let's just hope she'll remember this day when she's
sixteen and pissed at me for being uncool.
Also, I ordered the kids' Christmas books.
Shhhh… don't tell them.
books in the pic:
2. Books I got from the Library
It was a lite week, but a good week,
at my home away from home.
Throw in the Scott Pilgrim Soundtrack
and you could say it was wonderment.
book procured from the biblioteca:
before i fall by Lauren Oliver
Nightshade by Andrea Cremer
The Hollow by Jessica Verday
low red moon by Ivy Devlin
Nevermore by Kelly Creagh
One I'm excited about:
For a review of this book
by the extremely lovely Pushy
clickity click here.
3. Goodreads First Reads
I won a book on Goodreads!
Dude, I am sooooofa king excited.
And it looks like a totally awesome book to.
Here's the cover:
Here's the description:
She's had it forever. A tiny mark on her hand. No big deal, right? But when Tori discovers that her ordinary freckle is really some kind of microscopic tattoo, she doesn't know what to think, especially after meeting Eric, a guy she feels strangely connected to–and not just because he has a mark too.

All too soon, Tori and Eric realize that their marks are only the first clue to a mystery that will change everything. And with each new discovery, Tori finds herself pulled deeper and deeper into a world she could never have imagined.
The author signed it, plus added a book marker,
which just tickled me pink. I will be reading and reviewing it
as soon as possible here on Bewitched!
Annnnnd, that's what I know.
Make sure to check out other participating blogs/sites!!
But before you scamper off make sure to share with us
which books you acquired this week and
THE one you have been dying to read.
Pleasy Cheesy share with us!
Until next time–
Yours forever truly,
The following two tabs change content below.
Related Posts