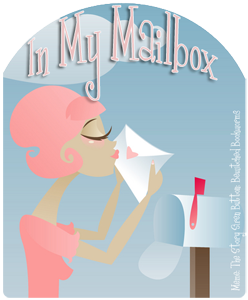 The idea is to post the books you got this week,
whether you bought them, got them as a gift,
from the library, or received them to review.
This week's blogger is cutie.
Happy All Hallows Eve, Bookworms!!
We cuties traditionally spend Halloween morn
craving pumpkins and stuffing our faces with muffins.
Adding "Talk about books I procured this week" to
my Halloween morning to-do list is fan-freaking-
awesome and making the morning oh-so-much
sweeter. Proof positive that I am a geek.
Whatev. *shrugs*
Who wants to talk about books?
Me too!
It's go time.


1. Books I got from B&N
The last few weeks, I have been a very very good girl and
I hardly bought any new books.
Could this book hoarder really be reforming?
Um… Just wait till we get to my library list.
*sighs helplessly*
books in the pic:
Dracula by Bram Stoker
A Portrait of The Artist As A Young Man and Dubliners
by James Joyce
Ward No. 6 and Other Stories by Anton Chekhov
Beautiful Darkness by Kami Garcia & Margaret Stohl
Leviathan by Scott Westerfeld (deuce copies)


books not in picture:
Two copies of Leviathan by Scott Westerfeld,
which were mail to one very pushy,
not to mention, extremely lovely
fox who had them signed
by the author!!
This will be the first book I will own that is signed by an author.
*stunned*
My friends, I am bursting with excitement!
THANK YOU PUSHY!!!!
You are the bestest-est.
*verklempt*
Where was I?
Oh yeah…
2. Books I got from the Library
What can I say?
I can't help myself.
They are offering free books,
not to mention, you can look online at the
new books that are coming soon and simply
click on request copy and poof they are yours for the taking.
It's magical, no?
And yes, crazy enough, I do get each and every book read
before returning them. Thusly, why the books I buy
never get read. Annnd there's my sob story.
You care. No. Truly. You do. *winks*
book procured from the biblioteca:
Shadow Hills by Anastasia Hopcus
Extraordinary by Nancy Werlin
The Ghost and The Goth by Stacy Kade
A Kiss in Time by Alex Flinn
Venomous by Christopher Krovatin
Black Hole Sun by David Macinnis Gill
things i know about love by Kate Le Van
Not That Kind of Girl by Siobhan Vivian
The Italian by Ann Radcliffe
Zombies vs. Unicorns (a short story anthology)
Editors:
Holly Black (Team Unicorn)
& Justine Larbalestier (Team Zombies)
Ones I'm excited about:
Durango is playing the cards he was dealt. And it's not a good hand.

He's lost his family.

He's lost his crew.

And he's got the scars to prove it.

You don't want to mess with Durango.
It's a question as old as time itself: which is better, the zombie or the unicorn? In this anthology, edited by Holly Black and Justine Larbalestier (unicorn and zombie, respectively), strong arguments are made for both sides in the form of short stories. Half of the stories portray the strengths–for good and evil–of unicorns and half show the good (and really, really bad-ass) side of zombies. Contributors include many bestselling teen authors, including Cassandra Clare, Libba Bray, Maureen Johnson, Meg Cabot, Scott Westerfeld, and Margo Lanagan. This anthology will have everyone asking: Team Zombie or Team Unicorn?
Annnnnd, that's what I know.
Make sure to check out other participating blogs/sites!!
But before you scamper off make sure to share with us
which books you acquired this week and
THE one you have been dying to read.
Pleasy Cheesy share with us!
I wish everyone who's going out tonight
a safe and fun filled evening!
Until next time–
Yours truly,
The following two tabs change content below.
Related Posts