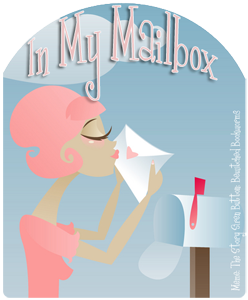 (You're welcome to grab and use our Button, just please link back to us)
Weekly meme from
The Story Siren
. The idea is to post the books you got this week,whether you bought them, got them as a gift, from the library, or received them to review.
Hope everyone had a great weekend. Since I'm cheap and trying to not spend any money on books right now, I'll share three books that I snagged for free for my Kindle from Amazon. While they were free at the time I downloaded them, they are not free as of the time of this post. (All book descriptions and links are to Amazon.com. Click cover image to go to Amazon.com)
Greta from Paranormal Wastelands recommended Awake by Jessica Grey.
Alexandra Martin didn't believe in fairytales…

Alex has always been more interested in rocks and science than stories about princesses and magic. Now she's far too busy with her summer internship at the Gem and Mineral Museum to think about children's stories. Between avoiding her former best friend and high school baseball star, Luke Reed, and trying to hide her unrequited crush on her mentor at the museum, the real world is occupying all of her time.

…Until she walked into one.

It turns out fairytales aren't all fun and games. A curse has turned her neat and orderly world upside down, and to break it, she bands together with a fellow intern and a recently awakened princess who's been asleep for 900 years. Can this trio of unlikely heroines put an end to an ominous enchantment, discover true love, and keep an ancient and evil magic from being unleashed on modern-day Los Angeles?
I really like the cover on this, the colors are great! And the fact that the main character is a science nerd drew me in instantly.
I also downloaded The Tears of Elios by Crista McHugh.
Shape-shifters' Rule #1: Don't let the humans know you still exist.

Rule #2: If a human finds out about you, silence them.

Some rules were meant to be broken…

Ranealya ruthlessly plays by the rules and has outlived most of her race because of it. If she wants to survive, she'll have to stick to them, especially with a genocidal tyrant hell-bent on destroying all the non-humans in the realm. But everything falls apart when a human saves her life.

Gregor knows he's inviting trouble when he helps a wounded shape-shifter, but he can't pass up the opportunity to study one before they become extinct. She disturbs the quiet order of his scholarly existence, vexes him in more ways than he can count, and encourages him to break enough of the kingdom's laws so that not even being the king's cousin will save his head. The problem is, he's already lost his heart.
It's been a while since I've read about shapeshifters, so this one caught my eye.
The last one I grabbed for free was Awaken (The Patronus)  by Sarah M. Ross.
Lucy Donovan was supposed to have a weekend of fun in the sun, celebrating her upcoming graduation from college. In a split second, everything changed. A drunk driver ended Lucy's mortal life. Lucy opens her eyes to a world she never imagined possible and a new destiny: as a Patronus, a guardian of spirits. Adjusting to her new role and abilities while negotiating this confusing realm will test her limits and push her further than she ever dreamed she would go. From wayward spirits who don't want her help to soul stealing vampires, and even a stuck-up British royal, Lucy must brave them all to save one spirit she can't bear to lose. Further complicating her confusing life is an inexplicable yet growing connection she feels to a member of her team, Max, whose mysterious behavior leaves her both confused and intrigued. Waking up dead was just the beginning of her problems. Lucy's death is about to become the greatest adventure of her life.
This one caught my eye due to the abundance of all kinds of supernatural beings.
So that's what's in my virtual mailbox. Has anyone had great luck with free book downloads from Amazon? Let me know what you've read for free and what your experience was like.
The following two tabs change content below.
I'm a PhD chemist who loves sarcasm, music, and books-paranormal, mystery, thriller, suspense, horror, and romance. Most of my free time is spent at the martial arts studio these days--whether practicing Combat Hapkido or reading books while watching my son's Taekwondo classes, or even working up a sweat with Kickboxing for fun.
Goodreads
Related Posts