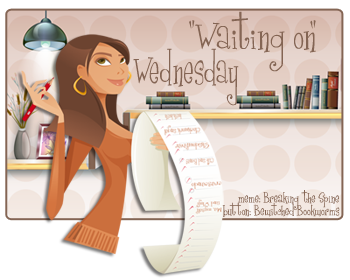 "Waiting on" Wednesday is hosted weekly by
Jill at Breaking the Spine
.
And I'm totally excited that in not even a week this book will be released:
Book 2 in the Fallen Angels series from
Lauren Kate
Release Date: 28th of September!
Oh my gosh, isn't this cover gorgeous????
Like, totally über-gorgeous??
Here is the blurb from goodreads:
How many lives do you need to live before you find someone worth dying for? In the aftermath of what happened at Sword & Cross, Luce has been hidden away by her cursed angelic boyfriend, Daniel, in a new school filled with Nephilim, the offspring of fallen angels and humans. Daniel promises she will be safe here, protected from those who would kill her. At the school Luce discovers what the Shadows that have followed her all her life mean – and how to manipulate them to see into her other lives. Yet the more Luce learns about herself, the more she realizes that the past is her only key to unlocking her future…and that Daniel hasn't told her everything. What if his version of the past isn't actually the way things happened…what if Luce was really meant to be with someone else?
I can't wait to read this book! I fell so in love when I read "Fallen" , you can read my review together with uhyesplease here: Actually it was uhyesplease who made me read this piece of Fallen Angel loveliness. And I have to say that I not only love the book, these covers are just plain awesome! There was truly an incredible artist working here!
I think you can again read the first chapter on her website, but I just can't torture myself with it, I never read such teaser chapters because they are just what they are : Big Torture Teasers!
I have pre ordered my copy already long ago and I can't wait to find out of Daniel and Luce will ever have a chance to be together and what role Came plays in all this. And this synopsis sounds terrible! I'm sure Luce and Daniel won't get an easily happily ever after, right?
So yes I'm desperately waiting for this book to be released and I will most definitely spend the following weekend curled up on my couch to devour this book.
And please look at this gorgeous hunting Teaser Trailer….


So girls, which book are you dying to get your hands on?
Oh and you are so welcome to grab and use our Button, just please cheesy link back to us 😉
The following two tabs change content below.
Related Posts