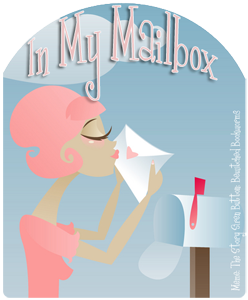 The idea is to post the books you got this week,
whether you bought them, got them as a gift,
from the library, or received them to review.
This week's blogger is cutie.
That's me!
*waves enthusiastically*
This week was a verrrrry good week.
So, I'm not even gonna ramble on.
Let's do this!


1. Books I got from B&N
"aka the holy of holies"
"aka why would anyone shop anywhere else"
*sends a sly teasing glance toward Danny*
This week I stocked up on a few books I've rented from the library
and wanted to own. Plus, bought a bargain book that looked super
cute annnnd bought the sequel to a book I've been wanting to read.
books in the pic:
Waiting for You by Susane Colasanti (bargain book)
Just Listen by Sarah Dessen
the truth about forever by Sarah Dessen
this lullaby by Sarah Dessen
Lock and Key by Sarah Dessen
Endless Summer by Jennifer Echols (sequel)
Not.To.Mention.
I got my copy of this wonderment:
I am both terrified and excited.
I've sat down with the novel and explained it might be propelled
against the walls a few times, but not to take it personally.
2. Books I got from the Library
"aka my home away from home"
"aka where they give you books for freeeeeee"
A few requests I had been waiting on came in this week,
plus a few books that continue series I've been following:
book procured from the biblioteca:
Hourglass by Claudia Gray
Early to Death, Early to Rise
by Kim Harrison
Claire de Lune by Christine Johnson
Beautiful Malice by Rebecca James
The Language of Trees by Ilie Ruby
My favy fave is this unique little bit of wonderment:
Description:
David and Charlie are opposites. David has a million friends, online and off. Charlie is a soulful outsider, off the grid completely. But neither feels close to anybody. When David's parents present him with a hot Companion bot to encourage healthy bonds and treat "dissociative disorder," he can't get enough of luscious red-headed Rose — and he can't get it soon. Companions come with strict intimacy protocols, and whenever he tries anything, David gets an electric shock. Severed from the boy she was built to love, Rose turns to Charlie, who finds he can open up, knowing Rose isn't real. With Charlie's help, the ideal "companion" is about to become her own best friend.
I'z reading it now,
so far it's the bomb[dot]com.
3. Pièce De Résistance
Words fail me now, my fellow bookworms.
In fact, I might have…
no wait…
I did.
I died.
That's right.
I have died and gone to heaven
where I am happily spending time with Patch.
Make sure to check out other participating blogs/sites!!
But before you scamper off make sure to share with us
which books you acquired this week and
THE One you have been DYING to read.
Pleasey Cheesy share with us!
Happy Reading, friends!!!
Until next time–
Yours truly,
The fine print: If you love our Buttons go ahead and grab them, but please make sure to link back to us, your friendly neighborhood Bookworms. Tis all we ask. (Easy peasie lemon squeezie, no? *hugs*)
The following two tabs change content below.
Related Posts