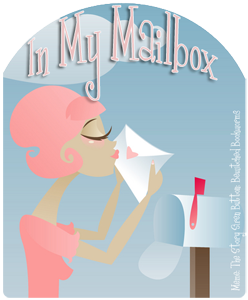 (You're welcome to grab and use our Button, just please link back to us –
Weekly meme from
The Story Siren
. The idea is to post the books you got this week,whether you bought them, got them as a gift, from the library, or received them to review.
Wow, three weeks have gone by and it's Heather here again. I have four books to feature this time (All book descriptions and links are to Goodreads)
First up, I totally forgot that I had ordered The Hungry Mouth by Isaac Marion, author of the fantastic zombie novel Warm Bodies.
[box type="shadow"]A man and a woman on their first date discover they have amazing powers.
A Tyrannosaurus Rex enjoys modern life as the guardian and spiritual mentor of Seattle.
An angry stoplight manages traffic for the lawless humans it despises.
An immortal and indestructible man discovers the horror and beauty of living forever.
A serpent exchanges emails with government agencies, confessing to a lifelong murder spree.
A feral cat sends psychic postcards to the family dog he left behind.
A child abandoned into foster care grows into a very, very hungry man.
A boy competes with his older brother for the affections of a girl before discovering a mysterious hole in the bottom of a lake.
An old man reminisces on his career as a disease engineer for a shadowy world organization.
A teenage girl and her kid brother make their way through a post-apocalyptic Seattle while being pursued by a large, lonely zombie.
The black hole at the center of our galaxy delivers a fierce and final soliloquy.
From the author of WARM BODIES, a collection of strange stories about strange people, strange creatures, and strange objects experiencing joys and hungers that are not strange at all.
20 stories, including "Grass Through The Concerete" a novella set in the world of WARM BODIES.
Limited Edition designed and published by the author. Only 500 copies will be made. All copies are signed.[/box]
I ordered this directly from Isaac Marian last year, but then they weren't ready when they were promised and I forgot about the book. But this showed up in my mailbox on Thursday, addressed to Heather! with no last name. I have to chuckle and shake my head since my last name is apparently an exclamation point and I'm the post office actually delivered it that way, but at least the book is signed, a limited edition, and hopefully good. It definitely has his characteristic humor all over it and I haven't even cracked it open past the title page yet.
I bought Susan Ee's Angelfall from Amazon for my Kindle Fire.
[box type="shadow"]It's been six weeks since angels of the apocalypse descended to demolish the modern world. Street gangs rule the day while fear and superstition rule the night. When warrior angels fly away with a helpless little girl, her seventeen-year-old sister Penryn will do anything to get her back.
Anything, including making a deal with an enemy angel.
Raffe is a warrior who lies broken and wingless on the street. After eons of fighting his own battles, he finds himself being rescued from a desperate situation by a half-starved teenage girl.
Traveling through a dark and twisted Northern California, they have only each other to rely on for survival. Together, they journey toward the angels' stronghold in San Francisco where she'll risk everything to rescue her sister and he'll put himself at the mercy of his greatest enemies for the chance to be made whole again.[/box]
I have heard nothing but fantastic things about this book. Greta from Paranormal Wastelands recommended this and she hasn't lead me astray yet. This book seems to be the hot, new Indie book from all the buzz I'm hearing.
HarperCollins sent us an ARC Unraveling by Elizabeth Norris for review.
[box type="shadow"]Two days before the start of her junior year, seventeen-year-old Janelle Tenner is hit by a pickup truck and killed—as in blinding light, scenes of her life flashing before her, and then nothing. Except the next thing she knows, she's opening her eyes to find Ben Michaels, a loner from her high school whom Janelle has never talked to, leaning over her. And even though it isn't possible, she knows—with every fiber of her being—that Ben has somehow brought her back to life.
But her revival, and Ben's possible role in it, is only the first of the puzzles that Janelle must solve. While snooping in her FBI agent father's files for clues about her accident, she uncovers a clock that seems to be counting down to something—but to what? And when someone close to Janelle is killed, she can no longer deny what's right in front of her: Everything that's happened—the accident, the murder, the countdown clock, Ben's sudden appearance in her life—points to the end of life as she knows it. And as the clock ticks down, she realizes that if she wants to put a stop to the end of the world, she's going to need to uncover Ben's secrets—and keep from falling in love with him in the process.
From debut author Elizabeth Norris comes this shattering novel of one girl's fight to save herself, her world, and the boy she never saw coming.[/box]
This book souds like it has everything I love: mystery, romance, murder, intrigue–all with a tight deadline.
So that's what's in my mailbox? Have you read any of these books?
The following two tabs change content below.
I'm a PhD chemist who loves sarcasm, music, and books-paranormal, mystery, thriller, suspense, horror, and romance. Most of my free time is spent at the martial arts studio these days--whether practicing Combat Hapkido or reading books while watching my son's Taekwondo classes, or even working up a sweat with Kickboxing for fun.
Goodreads
Related Posts