Sea
Author: Heidi R. Kling
Published: June 10, 2010
Links: Goodreads, Amazon (available as Kindle edition)
Purchased book via Amazon
Description:

Haunted by recurring nightmares since her mother's disappearance over the Indian ocean three years before, fifteen-year old California girl Sienna Jones reluctantly travels with her psychiatrist father's volunteer team to six-months post-tsunami Indonesia where she meets the scarred and soulful orphaned boy, Deni, who is more like Sea than anyone she has ever met.

She knows they can't be together, so why can't she stay away from him? And what about her old best friend-turned-suddenly-hot Spider who may or may not be waiting for her back home? And why won't her dad tell her the truth about her mother's plane crash? The farther she gets from home, the closer she comes to finding answers.

And Sea's real adventure begins.
I fell in love with Sea from page 1.
For full disclosure, I have been chatty with the author, Heidi, on twitter for some months and from her witty tweets and her love of The Vampire Diaries' Damon, I knew we had similar tastes and expected to like her story. What I wasn't expecting was to get swept up into the rawness and immediacy of the emotions she portrays.
This story is populated with characters who have suffered horrendous tragedies and loss. They should be crippled. But instead they each rise above their pain and use it to force themselves to be stronger, better people.
Sienna Jones, our protagonist, is an excellent example of this. When we start the book, she emotionally stuck. In the years since the loss of her mother, she's retreated into a smaller, more fearful version of herself. Once a fearless, surfing, Cali-girl, she has become quiet and reticent; effectively walling herself off from the world she once reveled in. But she's forced by her father to realize that she needs to break free from her self-isolation. Her father convinces her to come with him to do charity work at an orphanage in Indonesia, allowing her to use her experiences of loss and fear to help other girls, both her age and younger. While in the midst of this cathartic experience, Sienna finds herself again, and in the end re-emerges as the beautiful, brave young woman she had always been inside.
Sienna is also able to help Deni, the fantastically cute boy at the orphanage who is clearly destined to be her love interest. Deni is a survivor of an tsunami in Aceh who chafes under the governance of the orphanage's owner (yes, he's just a tiny bit of a bad boy). But he is instrumental in helping the boys who came to the orphanage with him cope with their shared loss and trauma. When Deni gets the chance to return to his home village with the hope of finding some of his family alive, Sienna risks her father's ire and the dangers of traveling in a foreign country with a boy she's known less than two weeks to help him.
So, yes, Sea is filled with great characters and romance and drama, but I also loved how well paced this book was. I was never bored or skimming ahead to get to the next good part. All the parts were good: from Sienna's now stilted relationship with former best-friend (who grew into a distinctly attractive young man), Spider, to her interactions with the girls at the orphanage, to her budding romance and adventure with the oh-so-dreamy Deni. Even the supreme awkwardness of Sienna's father's perhaps-more-than-professional relationship with his fellow therapist, Vera, had me smiling and grimacing. Every part was just supremely well portrayed.
Bottom Line
Ms. Kling paints such realistic portraits of people and places, Sea seems more like the recounting of fact than fiction, and with a story that keeps you flipping the pages to find out what happens next. Sea is a sweet, occasionally sad, but definitely wonderful tale told by a master storyteller.
I give it 5 out of 5 books.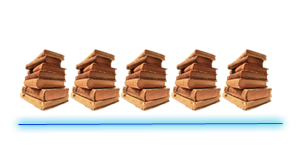 If you fall head over heels in love with this story (as I have), check out Heidi's blog that has more information on how she came up with this story, a blog where she shares her very witty observations on life and writing and a store where you can by Sea inspired tee-shirts, necklaces and other items. Her site also has information on appearances (not much there yet, but I definitely have my fingers crossed).
I just heard from Ms. Kling that the next book (possibly a series) that she is working on is a Romeo and Juliet story with magic. Color me interested!!!
Now go and get lost…in a book!
The following two tabs change content below.
Related Posts