Today we review one of the greatest Vampire series I've read. Sounds a bit exaggerated right? But I for myself think it's true. Why you ask? Well read our Review!
Some time ago Heather told me to read this series and as usual I saw the cover and was like … uhm… looks meeeh. Really, I should get over this. From all the books Heather told me to read all of them were beyond my expectations, so I just should blindly trust Heather.
(Note from Heather: Well, duh! Just trust me!
Danny: Oh I will, I promise!!
)
Oki back to the Night Huntress: It's a series, it's about Vampires and it's about Love and it's about the two strongest Main Characters I ever met: Cat and "ohmigosh" Bones!
There are 4 books out so far but much more to come ( thanks god!!!) and today Heather and I will review those 4 books together and not focus on each book.
Danny:
The Vampire Basics
Ok yep, Vampires (but also Ghouls) and those Vamps can go out in the sunlight ( although they don't like it) are superstrong, drink blood ( human blood) but they can drink without killing and new Vampires are done by classic draining and drinking. So far for the Basics.
The Characters
Cat: She is a half-breed , Vamp and Human and she hates everything Vampire mainly because her mother was raped by one and so Cat was born. Cat is unique, as I said normally Vampires are created not born! At 16 Cat starts to kill Vampires = Night Huntress. Later she's also working for the FBI to kill Vampires.
During the 4 books out so far Cat grows up, we start with a naive young girl that hunts Vampires but has no clue about anything. But still she's strong, stubborn and brave. But we see her grow up, looking behind what she thought was the truth. It's not easy for her and once in while she really does the stupidest things ever and I wanted to yell at her to open her eyes…!!!
Bones: I adore Bones! He's incredible! He's hot and he's witty and his special sense of humor makes me laugh so loud! Plus, he loves with his whole heart and would do anything (even kill) to keep his woman safe. Bones is a 300 year old Vampire who is super-superstrong and ( did I say hot?) he is also hunting Vampires.
The Relationship
Cat meets Bones during one of her hunting nights, but he's not the average Vampire she can kill easily. Bones takes her, beats her up (yes he does) and finally decided to train her to better kill and they become partners. Cat who is full of pure hate needa to trust Bones and she hates it! Bones tries to open her eyes, not all Vamps are bad and not all humans are good.
I LOVE the tension between the two and I love the constant innuendoes and teasing from Bones. This is what makes this books so strong is the relation between those two, both stubborn like hell and you can imagine that they have to fight a lot for this love. They fight and kill together other Vamps but they also always fight with each other, constantly!
And both make the worst decisions ever! I think I cried in every freaking book!
I'm glad Danny finally took my advice and read these books. Jeaniene Frost has created an unique supernatural world filled with vampires who's eyes glow green when they're excited (in more ways then one, huzzah!), ghouls, ghosts, zombies, and witches. The author seamlessly goes from action scenes to steamy romantic scenes in these books.
(Note from Danny: Well they are so hot, specially the one in book 2..*swoon)
Cat starts off the series as a vampire hunter, but becomes so much more when she hooks up with vampire assassin for hire Bones. She has been killing vampires hoping to find her vamp father and kill him for the hell he put her mother through. And in book 1, Halfway to the Grave, Bones agrees to help find Cat's father if she trains with him to become stronger and a better hunter. Book 2, One Foot in the Grave, finds Cat has become a special agent for the government and is tasked with fighting supernatural beings of all kinds to protect the country. When she becomes the target, Bones helps find who is trying to kill Cat. Bones is the target of an old enemy in book 3, At Grave's End. In book 4, Destined for an Early Grave, an old and very powerful vampire tries to claim Cat as his own. The fight to keep Cat with him travels across the globe to Europe. They take on several foes in each book which are action packed, both of the fighting and the loving kind.
Cat and Bones are so perfect for each other, but they do drive each other crazy. And each time Bones calls her "Kitten", it melts your heart. They push each other away in the beginning and their reunions are very, very hot. The cast of secondary characters is made up of strong, quirky supernaturals as well as a few humans. You will love to hate Cat's mom Justina, as well as Bones' mate Ian. One of my personal favorite secondary characters is Vlad (yes, Dracula).
When you're done with all 4 books where Cat and Bones are the primary characters, read the Night Huntress World spinoff books. I've reviewed the first one,
First Drop of Crimson,
on this blog several months ago. The next spinoff book,
Eternal Kiss of Darkness
, comes out on July 27, 2010. (I can not wait for this book to show up in my mailbox.) You can read the first 20% of this book on
Harper Collins' website
. Chapter 1 of the fifth Night Huntress book entitled
This Side of the Grave
(out February 22, 2o11)
is available at the end of this new spinoff book.
Final Verdict
Danny adores those books and after finishing she directly started again with the first! Never met more intriguing characters and a more intense relationship. Plus, the books will constantly break your heart, put it back and break it again! Heather gives this series 10 stars if she could, but must settle for 5. These books are as necessary as air to the vampire/paranormal romance book lover. So since we cannot give it 10 books, we give it 5 with a crown!!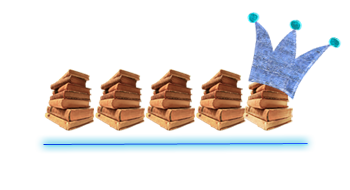 Useful Links:
The following two tabs change content below.
Related Posts