Happy Friday people and welcome to:
I can tell I'm über-excited go have Missie here today. Missie and I go way back, we started Book Blogging around the same time and both came from Twilight blogging. We were both a little confused at the beginning about what is a meme etc etc. Then we shared some love for Julie Kagawa and discovered NetGalley. But most of all, I will be forever grateful because Missie introduced me to the Fever Series! Yes, it was her! (And we might or might not have finally called a truce in our ever ongoing battle for Barrons, we agreed he's man enough to be shared…)
Missie runs the most awesometastic blog The Unread Reader and apart from writing awesome reviews she hosts the best meme ever: My Book Boyfriend. I picked up tons of books just because Missie showed me how the hot boys in the books could look like.
Today we even have a special post today because Missie send me a Vlog! Her first over and she's super cute, I just love her! So watch to video to see where and how Missie reads.
————–
Missie from the Unread Reader:
————–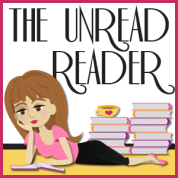 Oh I loooooved this Vlog!! Seeing Missie's house was wonderful. And Gosh I'd love to have a treadmill or something like that at home, maybe I would do a little more sports for once… But I bet audiobooks are definitely helping there, I do this when I go outside to walk in the part – oh, I need another round – hehe!!! I can totally relate to this urgent need to go to goodreads to find out more after reading an awesome book, I do the same! I need to know when or what comes next:-))
I love that you are reading when waiting to be seated and my family would also be mad at me *giggles*
Thank you so much Missie!!
And now, Happy Friday and much love,
The following two tabs change content below.
Related Posts