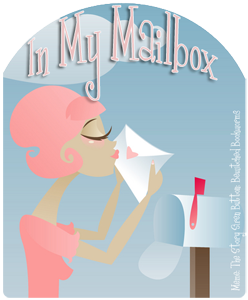 (You're welcome to grab and use our Button, just please link back to us –
Weekly meme from
The Story Siren
. The idea is to post the books you got this week,whether you bought them, got them as a gift, from the library, or received them to review.
Heather here again, and I preordered a Kindle Fire from Amazon and I've been enjoying reading books on that compared to my Kindle3. (All book descriptions and links are to Goodreads)
I've been an Amazon Prime member for several years and a new perk they have is the ability to borrow one book per month. I have The Hunger Games trilogy as hardcovers, but I saw that I could borrow these from Amazon. After Pushy and I saw the trailer for The Hunger Games movie before the midnight premiere of Breaking Dawn Part I, she talked up the books enough that I figured I should probably get around to reading them. So I downloaded book 1 to my Kindle Fire and burned through that puppy in a few days.
The Hunger Games by Suzanne Collins
In the ruins of a place once known as North America lies the nation of Panem, a shining Capitol surrounded by twelve outlying districts. The Capitol is harsh and cruel and keeps the districts in line by forcing them all to send one boy and one girl between the ages of twelve and eighteen to participate in the annual Hunger Games, a fight to the death on live TV.

Sixteen-year-old Katniss Everdeen, who lives alone with her mother and younger sister, regards it as a death sentence when she steps forward to take her sister's place in the Games. But Katniss has been close to dead before—and survival, for her, is second nature. Without really meaning to, she becomes a contender. But if she is to win, she will have to start making choices that will weigh survival against humanity and life against love.
I finished up this one and was immediately able to download the second one as part of the Kindle Lending program because it was now December.
Catching Fire by Suzanne Collins
Katniss Everdeen and Peeta Mellark won the annual competition described in Hunger Games, but the aftermath leaves these victors with no sense of triumph. Instead, they have become the poster boys for a rebellion that they never planned to lead. That new, unwanted status puts them in the bull's-eye for merciless revenge by The Capitol…
Since I blazed through this one in two days and you can only borrow one book from the Kindle lendng library per month, I'm currently reading the final book, Mockingjay, a my hardcover. Look for my reviews of all three books in the "Heather Finally Reads…" feature in the next few weeks.
On Black Friday, Amazon was running some really great deals on digital books. I did pick up a copy of Go the F**k to Sleep by Adam Mansbach with Illustrations by Ricardo Cortes for the lovely price of $1.99.
Go the Fuck to Sleep is a bedtime book for parents who live in the real world, where a few snoozing kitties and cutesy rhymes don't always send a toddler sailing blissfully off to dreamland. Profane, affectionate, and radically honest, California Book Award-winning author Adam Mansbach's verses perfectly capture the familiar—and unspoken—tribulations of putting your little angel down for the night. In the process, they open up a conversation about parenting, granting us permission to admit our frustrations, and laugh at their absurdity.
With illustrations by Ricardo Cortes, Go the Fuck to Sleep is beautiful, subversive, and pants-wettingly funny—a book for parents new, old, and expectant. You probably should not read it to your children.
The other book I downloaded was Pride, Prejudice, and Zombies by Seth Grahame-Smith, Jane Austen. This was super cheap too and I couldn't resist.
"It is a truth universally acknowledged that a zombie in possession of brains must be in want of more brains."

So begins Pride and Prejudice and Zombies, an expanded edition of the beloved Jane Austen novel featuring all-new scenes of bone-crunching zombie mayhem. As our story opens, a mysterious plague has fallen upon the quiet English village of Meryton—and the dead are returning to life! Feisty heroine Elizabeth Bennet is determined to wipe out the zombie menace, but she's soon distracted by the arrival of the haughty and arrogant Mr. Darcy. What ensues is a delightful comedy of manners with plenty of civilized sparring between the two young lovers—and even more violent sparring on the blood-soaked battlefield. Can Elizabeth vanquish the spawn of Satan? And overcome the social prejudices of the class-conscious landed gentry? Complete with romance, heartbreak, swordfights, cannibalism, and thousands of rotting corpses, Pride and Prejudice and Zombies transforms a masterpiece of world literature into something you'd actually want to read.
I preordered the next installment in the Chicagoland Vampires series by Chloe Neill entitled Drink Deep.
Clouds are brewing over Cadogan House, and recently turned vampire Merit can't tell if this is the darkness before the dawn or the calm before the storm. With the city itself in turmoil over paranormals and the state threatening to pass a paranormal registration act, times haven't been this precarious for vampires since they came out of the closet. If only they could lay low for a bit, and let the mortals calm down.

That's when the waters of Lake Michigan suddenly turn pitch black-and things really start getting ugly.

Chicago's mayor insists it's nothing to worry about, but Merit knows only the darkest magic could have woven a spell powerful enough to change the very fabric of nature. She'll have to turn to friends old and new to find out who's behind this, and stop them before it's too late for vampires and humans alike.
I'm still a little irritated with this series and what the author did with the male main character, but not enough to stop reading. I haven't been that eager to jump right in, especially since the next book isn't slated for release until August 2012. I'm just a little bit scared to be left hanging for that long.
So those are the books in my mailbox, what's in yours? Have you read any of the books above? Am I really the last person to finally read The Hunger Games?
The following two tabs change content below.
I'm a PhD chemist who loves sarcasm, music, and books-paranormal, mystery, thriller, suspense, horror, and romance. Most of my free time is spent at the martial arts studio these days--whether practicing Combat Hapkido or reading books while watching my son's Taekwondo classes, or even working up a sweat with Kickboxing for fun.
Goodreads
Related Posts