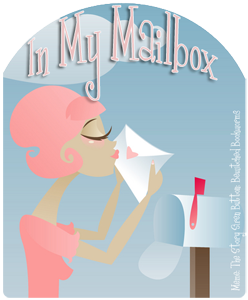 (You are so welcome to grab and use our Button, just please link back to us –
Weekly meme from
The Story Siren
. The idea is to post the books you got this week,whether you bought them, got them as a gift, from the library, or received them to review.
Happy Sunday, everyone. Today is September 11, and the date needs know further explanation, especially in the United States. As an American and Federal employee, my heart goes out to all those affected by these heinous attacks. But I'm going to press on, others will do a much better than I can with their eloquent words today.
The grave is one wrong step away.

Having narrowly averted an (under)world war, Cat Crawfield wants nothing more than a little downtime with her vampire husband, Bones. Unfortunately, her gift from New Orleans' voodoo queen just keeps on giving–leading to a personal favor that sends them into battle once again, this time against a villainous spirit.

Centuries ago, Heinrich Kramer was a witch hunter. Now, every All Hallows Eve, he takes physical form to torture innocent women before burning them alive. This year, however, a determined Cat and Bones must risk all to send him back to the other side of eternity–forever. But how do you kill a killer who's already long dead?
I absolutely love Cat and Bones, they are my favorite vampire couple. I'm reading this right now and really enjoying this. Great writing as usual from Jeaniene Frost.
I also preordered
Envy
, the third book in the Fallen Angels series by
JR Ward
.
Seven deadly sins. Seven souls to save. And a man and a woman treading the lines of danger, desire and deliverance …As the son of a serial killer, homicide detective Thomas 'Veck' DelVecchio, Jr, grew up in the shadow of evil. Now, on the knife-edge between civic duty and blind retribution, he atones for the sins of his father – while fighting his inner demons. Assigned to monitor Veck is Internal Affairs officer Sophia Reilly, whose interest in him is both professional and arousingly personal. And Veck and Sophia have another link: Jim Heron, a mysterious stranger with too many answers …to questions that are deadly. When Veck and Sophia are drawn into the ultimate battle between good and evil, their fallen angel saviour is the only thing that stands between them and eternal damnation.
I preordered Anna Dressed In Blood by Kendare Blake. And yes, I've already read an Advanced Reading Copy of this book. It was so fantastic that I had to own a copy for myself.
So did his father before him, until he was gruesomely murdered by a ghost he sought to kill. Now, armed with his father's mysterious and deadly athame, Cas travels the country with his kitchen-witch mother and their spirit-sniffing cat. Together they follow legends and local lore, trying to keep up with the murderous dead—keeping pesky things like the future and friends at bay.
When they arrive in a new town in search of a ghost the locals call Anna Dressed in Blood, Cas doesn't expect anything outside of the ordinary: track, hunt, kill. What he finds instead is a girl entangled in curses and rage, a ghost like he's never faced before. She still wears the dress she wore on the day of her brutal murder in 1958: once white, now stained red and dripping with blood. Since her death, Anna has killed any and every person who has dared to step into the deserted Victorian she used to call home.
But she, for whatever reason, spares Cas's life.
The final book I preordered was Charlaine Harris' The Sookie Stackhouse Companion.
Charlaine Harris has topped the bestseller charts and become a nationwide phenomenon, thanks to the unconventional, and otherworldly, life of Sookie Stackhouse. Now take a closer look at Sookie and her family, friends, enemies, adventures, and-of course-the lovers who set her world on fire…

Visit Bon Temps, the small Louisiana town that Sookie calls home, with a detailed map created by Charlaine herself, and learn the characteristics of the supernaturals who live there: vampires, two- natured, and fae. Examine all the branches of Sookie's family tree. And eavesdrop on the private conversations between rival vampires Eric and Bill.

Also, enjoy the compelling, never-before-published novella "Small- Town Wedding," in which Sookie accompanies her shape-shifting boss, Sam, to his brother's wedding in Texas, where happily-ever-after seems very far away….

Exclusive interviews with True Blood creator Alan Ball and author Charlaine Harris-complied from fan questions-will satisfy your craving for all things Sookie, as will trivia questions, recipes (including Caroline Bellefluer's famous chocolate cake!), and a concordance to the Sookie Stackhouse novels.
So that's my mailbox, happy reading.
The following two tabs change content below.
I'm a PhD chemist who loves sarcasm, music, and books-paranormal, mystery, thriller, suspense, horror, and romance. Most of my free time is spent at the martial arts studio these days--whether practicing Combat Hapkido or reading books while watching my son's Taekwondo classes, or even working up a sweat with Kickboxing for fun.
Goodreads
Related Posts