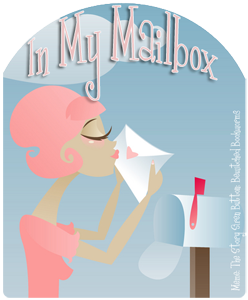 The idea is to post the books you got this week,
whether you bought them, got them as a gift,
from the library, or received them to review.
This week's blogger is cutie.
Folks.
I gotta be frank.
My head is livin' in la-la-land of late,
also known as,
fluff, nonsense, and other emo crap.
My reading adventures have been nonexistent
and my book buying days are on hold.
I did, however, get three very lovely books from
a few awesome publishers to share.
They are as follows:
My words are all used up at the moment, my friends.
But I think this haul speak for itself.
Make sure to check out other participating blogs/sites!!
But before you scamper off make sure to share with us
which books you acquired this week and
THE one you have been dying to read.
Pleasy Cheesy share with us!
And most importantly,
HAPPY READING TO ALL
AND TO ALL A GREAT BOOK!!!
*hugs and kisses*
The following two tabs change content below.
Related Posts