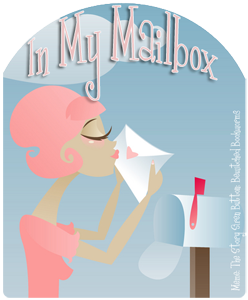 (You are so welcome to grab and use our Button, just please link back to us –
Weekly meme from
The Story Siren
. The idea is to post the books you got this week,whether you bought them, got them as a gift, from the library, or received them to review.
Happy Sunday, everyone. I have such a huge to be read pile and I'm trying to not spend so much money on books, so I have two books in my mailbox this week. All links and descriptions are to Goodreads.
First up, I got an ARC of Dark Souls by Paula Morris for review.
Welcome to York, England.

Mist lingers in the streets.

Narrow buildings cast long shadows.

This is the most haunted city in the world. . . .

Miranda Tennant arrives in York with a terrible, tragic secret. She is eager to lose herself amid the quaint cobblestones, hoping she won't run into the countless ghosts who supposedly roam the city. . . .

Then she meets Nick, an intense, dark-eyed boy who knows all of York's hidden places and histories. Miranda wonders if Nick is falling for her, but she is distracted by another boy — one even more handsome and mysterious than Nick. He lives in the house across from Miranda and seems desperate to send her some sort of message. Could this boy be one of York's haunted souls?
Soon, Miranda realizes that something dangerous — and deadly — is being planned. And she may have to face the darkest part of herself in order to unravel the mystery — and find redemption.
Be sure to check out Bewitched Bookworms this Friday, August 26 for a chance to win a copy of Dark Souls and see what Cutie and I thought of this book!

Next up, I ordered a copy Venomous by Christopher Krovatin.
Locke Vinetti is a high school junior, disenchanted and more than a little hostile. In fact, for years he's had a lousy social life because of a problem he has with his anger–a force he calls "the venom." Ever since he was eight years old and bit off a piece of a classmate's nose, he's been something of a loner. But all that is about to change when he goes out with his one friend, Randall, to meet some of Randall's crew hanging out at Riverside Park. Because in addition to meeting his kindred spirit, Casey–who has his own problems with his own kind of venom–Locke meets the spikey blue fairy-haircut Goth girl of his dreams. And if their relationship is going to work, he knows he has to rid himself of the venom once and for all. Interspersed with comic book adventures of the fantasy anti-hero alter-ego Locke has invented for himself, VENOMOUS is a fast-paced, funny, and ferocious read about one teenage boy's struggle with his inner demons.
Greta from Paranormal Wastelands recommended this book to me as research into a very realistic male main character. I've started working on my NaNoWriMo project from last year again and since it features a male main character, I'm doing my homework to make him much more believable since I'm obviously not a dude. If you have any recommendations on some great books, especially YA books with very realistic and gritty male main characters, please leave me a comment below. My NaNoWriMo project for this year will feature a male main character as well. Think a teenaged Dean from Supernatural but a lot less promiscuous.
So that's my teeny, tiny mailbox for the last few weeks. What's in your mailbox?
The following two tabs change content below.
I'm a PhD chemist who loves sarcasm, music, and books-paranormal, mystery, thriller, suspense, horror, and romance. Most of my free time is spent at the martial arts studio these days--whether practicing Combat Hapkido or reading books while watching my son's Taekwondo classes, or even working up a sweat with Kickboxing for fun.
Goodreads
Related Posts