WE CAME.
WE SAW AUTHORS.
WE SQUEED LIKE TWEENY GIRLS
AT A JUSTIN BIEBER CONCERT!!!!
Ok, so we weren't really THAT bad, but…
Yes, the Dark Days of Supernatural event
at Anderson's Bookshop in Naperville was one exciting night!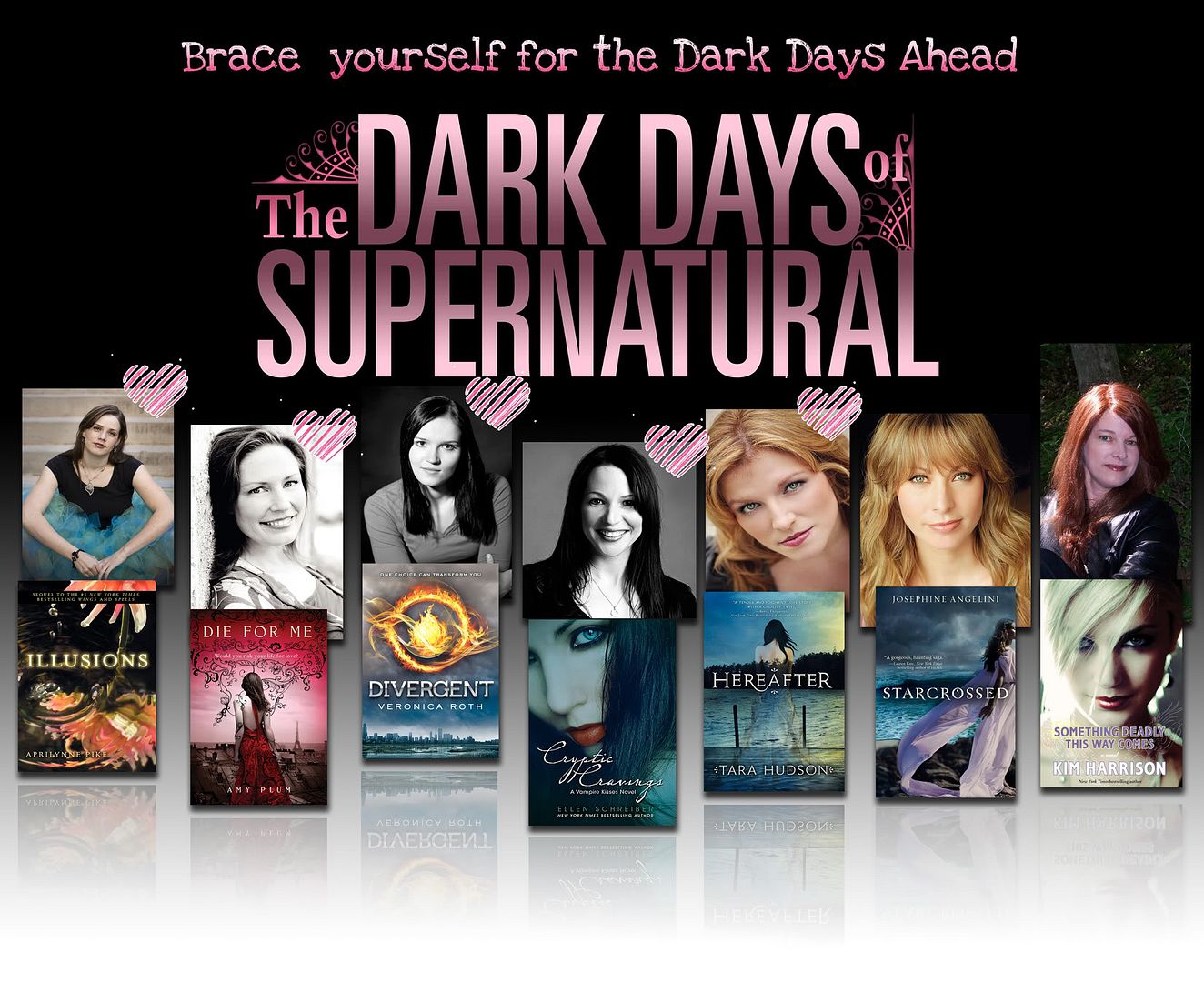 In case you don't know who we were able to see
(and really, if you don't, we haven't been squeeing loud enough),
the line up Tuesday night was:

(authors shown in order below)
And they were so, so wonderful!
Since there were five of them,
they opted to eschew the longer introductions
one normally hears at these events
and jumped right into the Q & A portion of the evening.
And we were on duty right away,
frantically typing and videoing and clicking away on the camera
to make sure all of you who were watching at home on the live feed
were able to get as close to the experience of being there as possible.

Here we catch Pushy listening instead of typing. Bad, Pushy!
You should be interacting with the folks on the live feed!!!
But she is sitting next to the super-awesome Amy Plum, so…

Ellen, Veronica, Aprilynn, Pushy, Heather, Amy and Tara…
Note Pushy and Heather are wearing their very own
Bewitched Bookworms t-shirts!
Yup, we class it up when we head out
and it's all because of the fantabulous ladies at
founded by none other than our super-duper creative, Heather!
Again, we'd like to say how thankful we are to Anderson's
our local independent bookstore
for hosting this event

They had signs and balloons and the whole nine yards. It was like an author fiesta!
and to HarperTeen for making it happen in the first place!
BOTH ORGANIZATIONS
ARE CLEARLY MADE OF WIN!
And if you are in any of the other locations,
we highly recommend checking out on of the other events.
You can check out the full schedule here.
And don't forget to follow
the Dark Days of Supernatural
on Facebook and on Twitter
because they have tons of extra special content available!
Much Love,
The following two tabs change content below.
Related Posts