Seriously, can we get a little *squee* here for this awesome Tour with these awesome books and awesome authors? (yes I know this are 3 awesome's in one sentence, but SERIOUSLY…)
And WE, your humble Bookworms, were invited to live blog
for the kick off tour stop in Illinois!
Pushy and Heather will be there and live stream for you guys
on the FB page for The Dark Days of Supernatural!
Yup, you can watch the whole thing in your jammies if you like!
Isn't this just super awesome?
So, let us squeal a little now…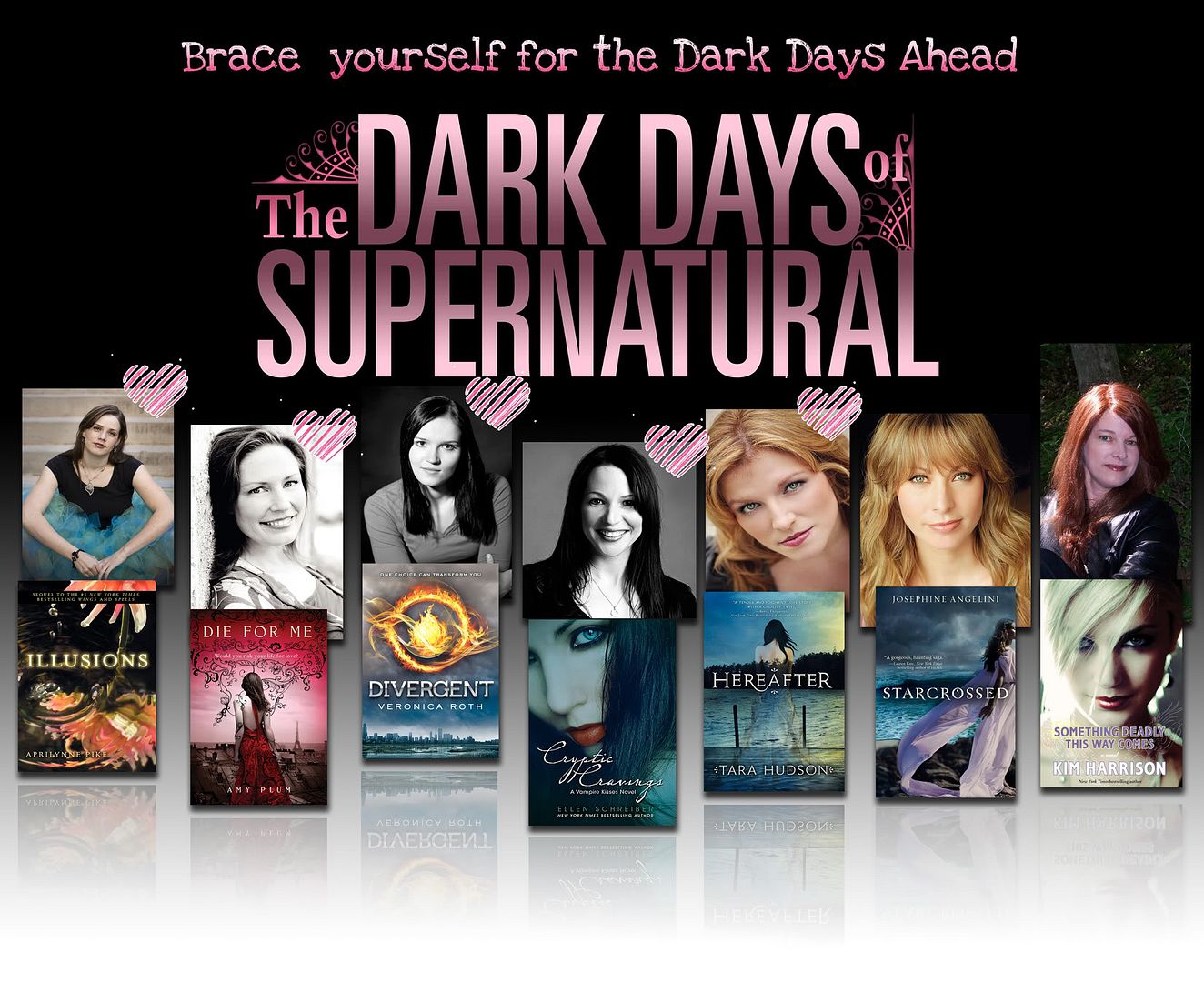 And those are the ladies that will be in Illionois:
Tara Hudson
, author of
HEREAFTER
Follow the Dark Days of Supernatural
on Facebook and on Twitter!
Be part of amazing giveaways and lot's of fun!
Full Tour Schedule,
maybe they also come to your town, or close to you?
Ok and it get's better and better!!
Even if you can't go to one of these stops
(just like our other Bookworms, poor girls)
you can attend the live stream during the show
and ask questions on Facebook.
Pushy and Heather will collect the questions
and direct them to the authors
FOR YOU!
So, you'll definitely want to check that out!
But, what if you can't attend the live stream either, you say?
You know we have you covered!!!
Here is your chance to ask a question of the authors
and possibly win a signed AND personalized copy
of each of the five books whose authors will be at
the Illinois event:
Yep, one winner will get shiny hardcovers
(and we've seen them and they are so sooo pretty!!)
signed by the authors to
YOU!
Contest is open US/Canada only and
runs til June 6th
All you have to do is this:
fill out the form and comment with one question
you'd love to ask one of the authors.
Your comment could look like this:
Question for Veronica Roth: Which fraction would be yours?
Candor , Abnegation , Dauntless, Amity or Erudite?
We will collect the questions and some
for our interview with these awesome ladies before the event!
Don't worry if you ask the same question as someone else,
we'll be selecting the winner randomly from the questions
we select for the interview.
Fill Out the Form to enter the giveaway!
Exciting, no?
Now:
and watch this fantastic Trailer of pure epicness!
Gosh, I love this trailer!
So tell us, what would you love to ask the authors
and which book are you most excited about?
Much Love,
The following two tabs change content below.
Related Posts