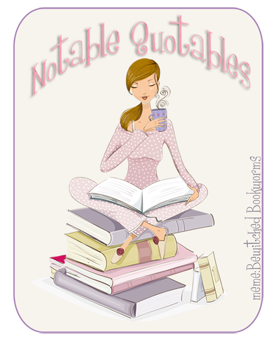 Feel free to use our button if you like
(you can just grab the code above).
Or if you prefer, make your own!
Welcome to Notable Quotables!
Yes and we won't get tired of promoting this meme!
Not sure exactly what you're supposed to do to be a part of the meme? Check out our first post here.
Notable Quotables is a meme we started here at Bewitched Bookworms to share some of our favorite quotes in the books we've been reading. We think it is a fun way to find out a bit more about each other as book bloggers and to share everything from great snarky zingers to sigh inducing avowals of love.
Anyone can participate in this meme and it really can be any quote from any book, no matter the genre. So get creative and share something fun!
Here's this weeks quote for the week from Danny:
Ok girls, I know I suck…
All day I was thinking about which quote to pick. It should
be a quote that means something to me,
that occupies my thoughts…
Well, there is one book (or better one series)
that kept my mind busy for way too long.
And… I couldn't pick any other quote from any other book…
You have one guess
from which book I took the quote..
*rolls eyes at self*
Don't leave me,
I promise I will eventually come back and talk
about other books..
*drum rolls*
…
Shadowfever
(of course…)
by the wonderful and epic talented
Karen Marie Moning
One day you do meet a man who kisses you and you can't breathe around it and you realize you don't need air. Oxygen is trivial. Desire makes life happen. Makes it matter. Makes everything worth it. Desire is life. Hunger to see the next sunrise or sunset. To touch the one you love. To try again.
So if my impressive and über-annoying fan girly behaviour
didn't make you read those books, then maybe
with this quote??
I picked this one, because it is so full of passion and desire
and exactly this is what you will find in those books…
*leaves out a big big and heavy sigh*
If you'd like to share your Notable Quotable post, please be sure to sign the link list below!
For example:
Name: Bewitched Bookworms
URL: http://www.bewitchedbookworms.com/notable-quotables-10.html

The following two tabs change content below.
Related Posts