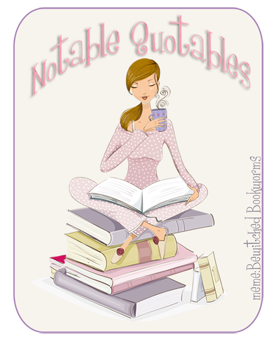 Welcome to Notable Quotables! Not sure exactly what you're supposed to do to be a part of the meme? Check out our first post
here
.
Notable Quotables is a meme we started here at Bewitched Bookworms to share some of our favorite quotes in the books we've been reading. We think it is a fun way to find out a bit more about each other as book bloggers and to share everything from great snarky zingers to sigh inducing avowals of love.
Anyone can participate in this meme, happening all day each Monday. It really can be any quote from any book, no matter the genre or when you read it. So get creative and share something fun!
Here's our quote for the week picked by Heather (okay, I couldn't pick just a quote so here's an entire passage):
They shared the special fondue for their entree, you see. Actually, now I think about it, it was my fault the fondue fork was still sitting there on the table.

Wow. I hope they can't sue me or anything. Ha.

So this girl, she's got the fork and she's yelling like a complete maniac. And then she throws the fondue fork at her. Can you believe it?

And the fork gets stuck in the pregnant one's stomach!

She's just sitting there looking down at her big belly and there's this fork sticking right out of her. It looked just completely bizarre.

The girl who threw it is standing there with her hand sort of held out, frozen, in midair. Like she was trying to stop a glass from falling or something and then realized it was too late.

And then–get this–she faints.

No–not the pregnant one. The one who threw the fork.

She just sort of crumples and falls–really heavy–onto the floor and on the way down she bangs her chin, like bang, really hard, on the edge of the table.

So she's lying on the floor, completely out of it.

The pregnant one, she's just sitting there looking at the fork sticking out of her stomach and she's not making a sound. She's just staring at it in this sort of dreamy way and then she touches her stomach with her finger and holds it up and it's covered in blood! Totally gross!

The restaurant is silent, like so silent, it's loud. Everybody is just sitting there looking at them.

So the third sister. She sort of sighs and shakes her head as if it's no big deal and leans down under the table and picks up her handbag and pulls out…

…her mobile and rang for an ambulance for the two of them.

Three Wishes by Liane Moriarty
Before I was a part of the wonderful Bewitched Bookworms, where I've been exposed to so many wonderful authors and books, I would patrol my local Barnes and Noble's bargain books section for books to pass time during my commute. Most of the time I was able to pick real gems out of the bargain piles.
And Three Wishes was one of those gems. This book was Liane Moriarty's first novel and she explored the dynamics between a set triplet sisters, following there lives and starting with the passage above. The public fight in the restaurant on their birthday, retold by a waiter above, is just the end to a dramatic year in their lives where their worlds are turned upside down. I really enjoyed reading this book, it wasn't your normal everyday chick lit read. I recommend checking out this book, it is really emotional and just an all around great read.
If you'd like to share your Notable Quotable post, please be sure to sign the link list below! We look forward to reading the quotes that jump out at you today.
For example:
Name: Bewitched Bookworms
URL: http://www.bewitchedbookworms.com/notable-quotables-10.html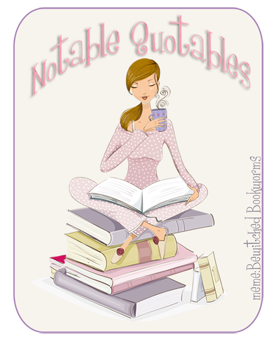 Feel free to use our button if you like
(you can just grab the code above).
Or if you prefer, make your own!
Have a wonderful Monday!

The following two tabs change content below.
Related Posts