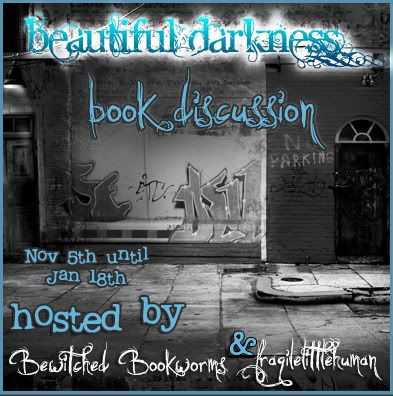 Welcome to the Beautiful Darkness Book Discussion Recap!! Thank you so much to everyone who stopped by this week's discussion post and left an answer. We are particularly excited to see that some of you are planning to read along with the discussion here. *happy dance*
If you haven't had a chance to read this week's discussion post by AH from Goodreads, you can find it here. And all the information about the discussion (complete with the schedule of chapters and dates) and it's accompanying contest, is available here.
This week's discussion question was:
What do you think is the significance of the arclight?
Ooooohhhhh!!!! Big question! Let's see what you all thought.
Britta said:
I think at this point in the novel, I was more confused than anything. I was having a hard time picturing what it would look like and how it would work. It is such an abstract idea, however, very intriguing.
Erikasbuddy was suspicious:
At this point in the story I actually thought that the Arclight was a "set up". I kind of figured that this would be Abraham's SUN and not his KRYPTONITE and would power his evil deeds.
AH had a great visual image for it:
I actually pictured the archlight as a beautiful hand blown glass ball. Since it seemed to work as a compass or beacon, I choose to believe that it was just that – a navigational device.
elizabeth said:
At this point, I think the arclight is going to help Ethan with Abraham in some way. Maybe he will trap him later?
and Darkfallen felt that way too:
[My] first reaction when I read this was that it had to do with Abraham. That maybe Lila was giving him the tools he would need to save Lena and defeat Abraham.
MyTwilife agreed and added:
I do remember thinking the arclight would help Ethan trap someone…all kinds of names ran through my head: John Breed, Lena (maybe she would go all crazy and he would trap her until she calmed down…hey it crossed my mind lol….but she is not an incubus so not for her…) and of course Abraham. I also thought it was acting as some sort of compass, guiding him to Lena.

I pictured it as a perfectly round, very shiny, smooth, glassy like marble thing.
To which Britta voiced something we were all feeling:
There were sometimes when *I* wanted to trap Lena! She definitely deserved a good containment until she calmed down and retrieved her mind (because she obviously lost it).
Great answers! We're glad you stopped by and commented! If you missed your chance to comment on last week's post, there's still time to answer the question and get your entry into the Beautiful Darkness Book Discussion Contest. And keep your eyes out for this week's post, coming to you on Tuesday by one of our favorite guest bloggers, Erikasbuddy!!

The following two tabs change content below.
Related Posts