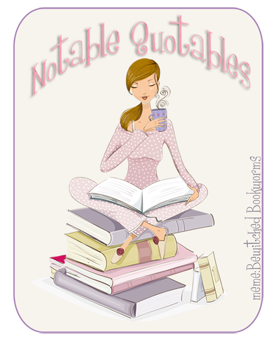 Welcome to Notable Quotables, a fun meme where we give a small quote that's touched us! Not sure exactly what you're supposed to do to be a part of the meme? Check out our first post
here
.
Notable Quotables is a meme we started here at Bewitched Bookworms to share some of our favorite quotes in the books we've been reading. We think it is a fun way to find out a bit more about each other as book bloggers and to share everything from great snarky zingers to sigh inducing avowals of love.
Anyone can participate in this meme and it really can be any quote from any book, no matter the genre. So get creative and share something fun!
Here's our quote for the week from Pushy:
"I vowed after that day that I would be your hero too,
no matter how long it took"
Kent to Samantha, Chapter 5, Before I Fall by Lauren Oliver
This book, which I've been listening to on Audiobook, has had me sobbing randomly all week but this quote….actually winded me. As in I was outside with my kids and I had to stop and grab something in order to pull in more air because the sheer emotional force with which it was delivered just blew me away. I adore Kent. I MARRIED a Kent. And when I heard these words I knew Kent would be one of my literary-hero loves forever.
If you'd like to share your Notable Quotable post, please be sure to sign the link list below!
For example:
Name: Bewitched Bookworms
URL: http://www.bewitchedbookworms.com/notable-quotables-10.html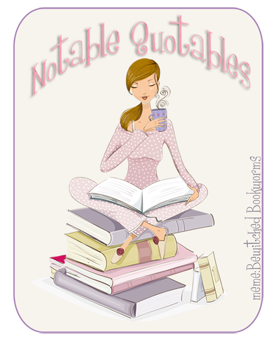 Feel free to use our button if you like
(you can just grab the code above).
Or if you prefer, make your own!
Have a wonderful Saturday!

The following two tabs change content below.
Related Posts