TGIF!!! It's Friday, which means only one day of work and we have weeekeend! And In Germany we have a long weekend ahead – Monday is free, so I'm a tiny bit more excited!
Each week there is a new question to answer, which is fun and also helps to get to know each other better, so here's this weeks question:
"What is the one bookish thing you would love to have?"
Danny: Hm, I have already Kindle and iPad so that doesn't count. I wish I could have a wonderful huge library in my house where I could have all my books and a comfy couch in front of a fireplace. And of course, the library would have a super coffee machine!
Parajunkee
is also running a Follow Friday meme that we love. This week she's featuring Julie from
My 5 Monkey's
This week's question is based on her blog name:
If you have, or would have a daughter,
what book would you want your daughter to read?


Danny: Hm.. that is a difficult question and I will ask pushy, because Pushy has two super cute girls, so let's wait until she's up and I let her answer this question!
Pushy: This is a great question!!. I hope that my daughters grow up to love losing themselves in the pleasure of books, the way I do, and they're both well on their way, which is encouraging. If I had to pick ONE book that I would want them to read (as of this moment when I'm still half asleep and can't think of something classic or whatever) it would be The Dragonlance Chronicles (yes I know that's technically three books but I'm a dork and I own the collectors edition, three in one, so….whatever)
I love not only the fantasy elements in this book but also how the girls powerful as well. Plus, it was one of the first LONG books I finished and I think it's important for kids to realize that just because a book is REALLY long doesn't mean it's boring.
But I really want to know what the other bookworms think!
Cutie has three girls (and a son), most of whom are older than mine, and already reading on their own. Cutie, get in here and answer this one too!
*peeks head in* Did someone call my name? Hm… Well, I really really really want all my kids to read the Harry Potter series. My oldest (who is ten) just started it, and I got so flippin' excited about it, I just about peed my pants, for realz! If I were to take this question a little deeper than just a book they would enjoy reading, I'd have to say, I am hoping they will read any and all Sarah Dessen novels, because I love the personal growth of her characters and the life lessons they learn. And, I'd want them all to read To Kill a Mockingbird, because that book kicks some serious arse. Do I have to pick just one? *winks* *waves buh-bye* *fades to black*
Uhyesplease has a pre-teen and an infant, so you KNOW you have to answer this, girl!
Wow – I never thought about this – but yes, for my two girls I'm all about the books! Thankfully my oldest loves to read (we actually discuss novels on our walks!) and my youngest likes to drool on them. So it works out. As far a great book or series, I would have to pick The Chronicles of Narnia. I love the message, the imagination, and the last book in the series is truly the best way I can describe my relationship with God. Whoa – that is deep.
Heather, I know you don't have a daughter, but remember you can still always have another baby!!!! If you had a daughter, what would you want her to read?
Okay, I'll jump in here in super fancy blue text. I don't have a daughter, only a toddler son who thinks books are for shredding, not for reading. But if I had to pick a book, I would pick 13 Little Blue Envelopes by Maureen Johnson.
This book has it all: adventure, love, independence, free spirits. It's a great YA book.
So please stop by both Parajunky's and Julie's sites and see who else is out and about doing the book blog networking thing!
Finally, we'd love to take the opportunity to welcome all the new faces and the old ones too! *waves* Glad you are here and we hope you like it here at the Bewitched Bookworms.
To get an impression about us, this was what we were up to at the Bookworms last week:
Last week on Friday we had the opportunity to interview Julie Kagawa, the author of the Iron Fey saga. And we have a contest running: We give away 3 sets of Iron King and Iron Daughter! Wooho! Still time to enter!
Another round of "You pick, cutie Reads". Cutie needs your help once again, she has so many book that she has no clue where to start! So please go and help her! 🙂
On Tuesday we announced the Beautiful Darkness Discussion and Contest! We are all so super duper excited about this discussion, so please have a look at the Announcement and then come back next week and join us! so grab the Button and have fun with us! Oh and we have a contest with fabulous prizes for those that participate!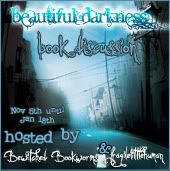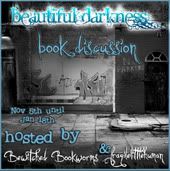 Pushy and Danny were "Waiting on Wednesday": this week their pick was "Darkest Mercy" the last book on the Faerie Series from Melissa Marr!
On Friday, Heather reviewed the upcoming title from Scott Nicholson, Disintegration. Another great 5 star book from this indie author.
So, you can see, it was another fabulous week here So if please take a moment, check us out and enjoy.
Now go and get lost….in a book!

The following two tabs change content below.
Related Posts