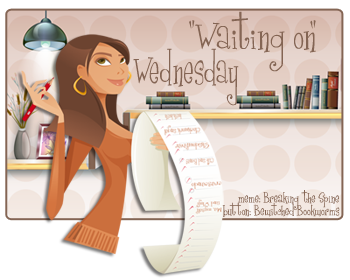 "Waiting on" Wednesday is hosted weekly by
Jill at Breaking the Spine
.
(Feel free to grab the Button
just please cheesy with a cherry on top
link back to us.
Thanks!!)
Oh my gosh, oh my gosh!!!!!!!!
OMFG!!!!!!
As many of you know
I am an enormous fan of the Caster Chronicles books,
Well, a little birdy told me yesterday
that they have finally announced the title of the
third book, scheduled to come out this fall.
And the title is…..
This cover is really fan art made by me
and in no way is intended to infringe on copyrights
of the fonts which were designed by Si Scott
or the eye image which was found here.
You can read the original announcement
at the Beautiful Creatures official blog here.
And stay tuned to MTV's Hollywood Crush
on Thursday, March 3rd at 3pm EST
when the official release date
AND
the official cover will be unveiled!!!
Also stay tuned to Next Movie at the same time
because they'll be announcing the latest information
about when we can expect to see Ethan, Lena
and my personal favorite, Macon, on the big screen!!
And you can join me in waiting, as patiently as possible
(which, let's face it, isn't going to be that easy)
for the official release date, the excerpt and of course
the official cover!
UPDATE!
Here's the new cover and release date!
WOO-HOO!!!
October 18, 2011
Now for something I'm waiting on that's a little bit closer date-wise:
Last week Heather mentioned that the sequel to J.L. Bryan's
A-FREAKING-MAZING book, Jenny Pox,
Tommy Nightmare,
will be out next month.
Well, now there's a cover and excerpt to enjoy while we wait:
While Fallen Oak recovers from the Jenny pox, someone new is hunting Jenny.

Like Jenny, Ashleigh Goodling belonged to a pair of opposites with powers that mirror each other.

Now Jenny and Seth must face the opposite of love…
And if that wasn't enough…
there's a new cover for Jenny Pox which is SO GORGEOUS:
Aren't they fantastic?
Well, that's what I'm waiting on?
How about you?
Now go and get lost…in a book!
The following two tabs change content below.
Related Posts