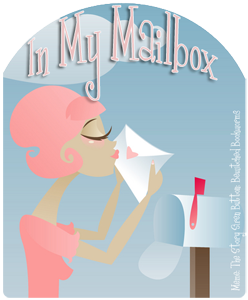 The idea is to post the Books you got this week, either you
bought them, got them as a gift, from the library or received them to review.
Make sure to visit other participating sites.
Our first IMM!!!
Woohoo and we got some pretty good stuff!

Yes, you see right it's a
Crescendo
ARC (*dances around and makes a foul out of myself*) we got this from
Big Honcho Media
which are working together with Simon&Schuster. They were wonderful enough to give us two copies so that pushy could send one over to Germany, where it arrived yesterday (*dances around again*) and guess what.. I read it already!! I curled up all day on the couch devoting this book…
Then we got
Mieradome
from
Kate Hegarty
, which seems like a beautiful Faery Story. Pushy and me both are going to read and review it. Kate was nice enough to provide me a eCopy of the Book!
Some time ago but (I still want to mention it) we got eCopies from
HP Mallory's
two Debut Urban Fantasy Novels.
I can tell those are super fun reads and we are about to review them soon ( well, as soon as pushy finishes ..) and we will have an interview with HP Mallory here.
Those who read and loved Cassandra Clare's Mortal Instruments know about her incredible writing style and specially her intriguing characters.
I also bought Soul Fire from R.F. Long because I found it on the Samhain Publishing and I fel in love with the cover! Plus, I love the Warning Addons from Samhain Publishing:
Warning: Contains enchantments, danger, some very scary monsters, a trip to the dark side and hot, soul-transforming sex with an immortal prince

OOoOooo and then, I had something in my mailbox that I awaited anxiously since I ordered it!
My New Kindle 3 *squeeee*
I traded my old Kindle 2 against the new Version and I was one month without my Kindle! Now, finally I have it hear and I love it soooo soo much! The contrats is even better and
I love the grey color.
The first thing I did was load all the wonderful books I've bough the last month!
Ok, tell me what did you get in Your Mailbox??
Which one is the one you are most excited to read?
Btw: If you love our Buttons, you can grab them but please link back to the Bookworms, that's all I'm asking…
The following two tabs change content below.
Related Posts