Going Bovine
Author: Libba Bray
Published: September 22, 2009
Links: Goodreads, Amazon (available as Kindle edition)
eAudio book borrowed from Library by reviewer
Description:
Cameron Smith, 16, is slumming through high school, overshadowed by a sister "pre-majoring in perfection," while working (ineptly) at the Buddha Burger. Then something happens to make him the focus of his family's attention: he contracts mad cow disease. What takes place after he is hospitalized is either that a gorgeous angel persuades him to search for a cure that will also save the world, or that he has a vivid hallucination brought on by the disease. Either way, what readers have is an absurdist comedy in which Cameron, Gonzo (a neurotic dwarf) and Balder (a Norse god cursed to appear as a yard gnome) go on a quixotic road trip during which they learn about string theory, wormholes and true love en route to Disney World. Bray's surreal humor may surprise fans of her historical fantasies about Gemma Doyle, as she trains her satirical eye on modern education, American materialism and religious cults (the smoothie-drinking members of the Church of Everlasting Satisfaction and Snack 'N' Bowl). Offer this to fans of Douglas Adams's Hitchhiker's Guide to the Galaxy seeking more inspired lunacy.
I read a lot of typical YA books. Most of them are really good books, but I pretty much know what I'm going to get. Boy and girl will eventually fall in love despite the obstacles in their paths. However, my dear reader, Going Bovine is NOT your typical YA book.
You might at first be misled. The narrator, Cameron, is a teen boy who has few if any friends and a twin sister whose perfection is most important in that it illustrates just how not perfect he is. He goes on a journey during which he learns about himself and love and life in general.
BUT….
This book is also narrated by a boy who may or may not have mad cow disease (my money was on schizophrenia for a large portion of the book) who goes on a near mythical, definitely epic journey across Texas and Florida with a dwarf, a gnome and an pink-haired, punk angel in search of a physicist who has punched a hole in reality and is the only one who can possibly save Cameron and the world at large. Yeah. Take a second to absorb all of that.
What I love about this book is that despite how outlandish it becomes, and really, I'm not kidding when halfway through I told my husband the book was about a schizophrenic teenager, it's still so emotionally real and just spot on when it comes to describing the often bizarre terrain that is teenage life. Cameron knows how absurd the events surrounding him appear and yet, what else can he do but follow his mission to find reason in the random and possibly save himself. He doesn't have much of a choice since his only other option is to stay in a hospital room and wait for his inevitable death.
Bottom Line
This is a rollicking good read. Full of great little vignettes and bit characters worthy of exploration on their own (I promise you will want to know more about the kids who live at the Church of Everlasting Satisfaction and Snack 'N' Bowl). You may shake your head through it, but you will fall in love with Cameron, Dulci, Gonzo and Balder. And you'll close the book happier for having read it, for it is truly a superb read!
I give it 5 out of 5 books.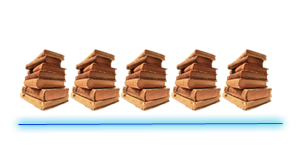 I'm not the only one who thinks Going Bovine is amazing! The American Library Association also thinks it's pretty darn nifty and even awarded Going Bovine the 2010 Michael L. Printz award for Excellence in Young Adult Literature. So, seriously, this is a great book!!!
Now go and get lost…in a book!
The following two tabs change content below.
Related Posts