Hunger for nourishment.

Hunger for touch.

Hunger to belong.

Half-human and half-faery, Ani is driven by her hungers.

Those same appetites also attract powerful enemies and uncertain allies, including Devlin. He was created as an assassin and is brother to the faeries' coolly logical High Queen and to her chaotic twin, the embodiment of War. Devlin wants to keep Ani safe from his sisters, knowing that if he fails, he will be the instrument of Ani's death.

Ani isn't one to be guarded while others fight battles for her, though. She has the courage to protect herself and the ability to alter Devlin's plans—and his life. The two are drawn together, each with reason to fear the other and to fear for one another. But as they grow closer, a larger threat imperils the whole of Faerie. Will saving the faery realm mean losing each other?

Alluring romance, heart-stopping danger, and sinister intrigue combine in the penultimate volume of Melissa Marr's New York Times bestselling Wicked Lovely series.
Please note that if you haven't read the earlier books in this series,
there are a few spoilers ahead.
Read at your own risk.
Danny:
To begin with, I was incredible happy to dive into this incredible world of faeries, mortals, love and friendship. To meet the characters again I grew to love within the last 3 books (plus Stopping Time, which is awesome by the way and I highly recommend reading it before Radiant Shadows!). Here, we get to know two characters we already know from Ink Exchange – Ani, a half-breed and from Fragile Eternity – Devlin, the brother-son of Sorcha, the High Queen of Faery and Bananach, Sorcha's twin and the embodiment of War.
The fist part was a bit slow and I needed time to connect to Ani, I didn't felt the instant connection I felt like I had with the other characters, but I really adore Devlin. But then, the book speed up and I was again head over heels inside the story and couldn't wait to read on .
Pushy: Like Danny, I was SO excited to jump back into Melissa's world but found it slow going at first. But it's understandably so because two ancillary characters are taking center stage in this novel and they needed some fleshing out. And there are a lot of interesting things to learn about both Ani and Devlin.
I felt bad for Ani who is in a sort of limbo at the beginning of Radiant Shadows, not mortal, not fey, not human enough to live freely but not faery enough to run with the Hunt. She has all these hungers and desires and no outlet for them. And Devlin's not exactly as we saw him (admittedly through Sorcha's eyes) in Fragile Eternity. He truly is the combination of both Sorcha and Bananach, order and chaos. It's no wonder that Ani is drawn to him.
And of course, since Ani's allied with the Dark Court (as the daughter of Gabriel) and Devlin's allied with the High Court (as Sorcha's adviser and assassin) we get to see a host of characters from the previous three books, not the least of which are Irial, Niall and Seth.
Ani and Devlin

Danny:
As I said already, I felt much more connected to Devlin who struggles with everything he had lived for so far, just to see his world turning upside down. He's the High Court's Assassin and therefore driven by logic and not by impulse and emotions, or even passion. Everything changes when he meets Ani. Ani a half-breed from a mortal and the Dark Courts Assassin, Gabriel. She is unique, so much so that she can either rescue her beloved Faeries or destroy them forever.
Pushy: I was really excited when these two first met. There's a bit of build up in the book before it, about how the things Ani wants and needs she can't find with either mortals or fairies and when Devlin shows up you can just tell he's the man to give her what she needs. And then….meh.
I just couldn't get into the love story with these two. I don't know if I kept looking for more information on the Irial/Niall/Leslie front (love those three!!!!), or got distracted by the few hints there were about what was going on with Seth, Aislinn, Keenan and Donia (I REALLY want to find out what happens here!) but I just didn't fall for this couple as I did with the other couples in this series.
Seth, Niall and Irial

Danny:
Truly, they are my most favorite characters in all the books! It was great seeing that Irial has a bigger role in this book than I expected. Seth however had a smaller role than I hoped but I know that he will be back in the next book.
Pushy: How much do I love these men? Seriously!!! I just adore them. Here are examples of strong, supportive, sexy as all get out men in YA fiction!
*Pushy jumps up on her soap box* Girls: If your boyfriend is not 100% behind you the way Seth is behind Aislinn, keep looking. There are men like Seth in the world and they are worth the wait!
My only complain here is that we don't get enough of these fabulous characters in this book. I know the book's not about them, but I say more's the pity!

High Queen Sorcha

Danny:
To be completely honest about her, I don't like her. Although I can try to understand her. In Fragile Eternity we learn that she made Seth a faery by giving him a piece of herself and therefore now has deal with emotions she never had before, because the Queen of Logic and Order does not need any of this, all changes with Seth. But still, it doesn't makes me like her more.
Pushy: I want to like Sorcha. She's a great example of a powerful woman (and not the only one in this series, so thank you for that, Ms. Marr!) who has to balance her career (yes, I'm likening being the queen of a faery court to a career. What?) and her family. Despite her lack of a consort, she makes the child she has longed for when she turns Seth into a faery at the end of Fragile Eternity and I love that she embodies the concept of taking your life and fashioning it into what you need it to be.
What I dislike about Sorcha is that she is set up to be the Queen of Logic but we don't see enough of her in that role in the first few books to fully get the enormous shift that her taking Seth as her child in Fragile Eternity is. So in Radiant Shadows, when she behaves SO illogical I found myself confused and put off by her.
Teasing Quotes that made us shiver:
"Blood to Blood. Bone to Bone. Breath to Breath.
My hungers yours to feed, and yours mine to feed."
And for the Irial lovers:
"This is why Leslie had loved him, why Niall loved him still.
Irial would do anything for his loved ones"
Our final Verdict:
Danny:
A must read for all those who read the other books. You will get deeper and deeper into the Faery world and their problems in survival. It will leave you craving for the last book that will hopefully pull all loose endings together. Awesome Book! I give it 4 books!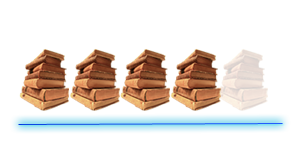 Pushy: Not as strong as the first three but still an essential read before Darkest Mercy comes out next year. This book gives a lot more information about the world of fey at large but if you're looking for more about what going on with the characters you've already fallen in love with, you'll be somewhat disappointed. I give it 3 books.
What do you think? We'd love to know!

The following two tabs change content below.
Related Posts