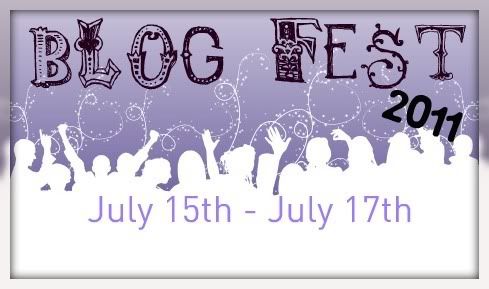 Let's celebrate!!
Now through July 17th at 11:59pm EST we will be participating in BlogFest 2011!
You will find many awesome new bloggers and each one of them will have a giveaway for you!
aka the Mastermind behind the Blog Fest!
What is BlogFest?

BlogFest is a massive carnival of giveaways with a great collection of participating blogs. Each blog has a giveaway and the idea is to hop from blog to blog, entering all the giveaways your little heart desires. Hopefully you might even come across a few blogs you might want to bookmark and continue visiting.

How do I enter to win?

Each blog has their own giveaway and their own rules. The giveaways will start at midnight EST on the morning of July 15th and run through 11:59pm on the night of the 17th. That's a whole 72 hours that you get to visit as many blogs as you want and enter their amazing giveaways.

What is this Tracking Site?

This is a site designed by me and developed by my live-in IT guru at http://blogfest.ajourneyofbooks.com. You simply need to register with a valid email (more about why it needs to be valid in a moment) and then start tracking your progress. You can click through to blogs from this site and once you've visited a site, you can come back and check off that you've visited the blog. Want to compete with your friends? When you register, click the option to make your list public and everyone will get to see how many blogs your display name has visited.
*claps hands*
Exciting hu?
So let's come to to what the Bookworms have planned. And since the Blog Fest is running
for 3 days …:
3 days, 3 awesomeness giveaways!
One (1) winner
The HarperTeen Awesomeness Pack!
Hereafter and Die For Me
both are signed and includes some swag!!
One (1) winner
The Classic Awesomeness Pack!
Great classics in a beautiful cover!
One (1) winner
The Dystopian Awesomeness Pack!
Anxious awaited Dystopian Releases.
Legend by Marie Lu (signed) and Ashes by Ilsa J. Blick
Please simply enter below and leave a comment for an extra entry!
And most of all .. have fun during the Blog Fest!
Much Love!
And here are the other participating bloggers! This is an amazing list hu? And each one has a giveaway ready for you! Please visit A Journey of Books for more information regarding the Gran Prize giveaway!
1099 Mom
A Book and a Latte
A Journey of Books
A Life Bound By Books
A Naughty Romance Reader At Play
A Thousand Books with Quotes
A Thousand Wrongs
Among the Muses
Ashley's Bookshelf
Ashlynn's Blog
AsianCocoa's Secret Garden
Authors By Authors
Baba's Farm Life
Becks Book Picks
Being Tazim
Believing is Seeing
Bewitched Bookworms
Bibliophiliac
Bitten by Paranormal Romance
Book Dads
Book of Secrets
Book Twirps
BookHounds
BookHounds YA
Books R US
Booksnob
Bookvisions
Braintasia Books
Budget Savvy Diva
Cate Masters
Chasing Dreams
Chick Loves Lit
Christmas TV History
CLEVERLY INKED
CMash Loves To Read
Coffee & Romance, a book blog
Colloquium
Confessions of a Bookaholic
Curling Up By The Fire
Cuzinlogic
Dasef's Book Central
Delaney Diamond – Sweet & Sensual Romance
Desperado Penguin
Diva's Bookcase
Dollycas's Thoughts
Dr. Stravagante's Traveling Book Circus
Dream For Your Life
Edgy Inspirational Romance
Em Woods – Gay Erotic Romance Author
Escape Velocity
Fade Into Fantasy
Family Volley
Fangs, Wands and Fairydust
Fang-tastic Books
Farmgirl Writes
Fiction Flurry
For What It's Worth
Free & Frugal Mommy of One
Frequent Reader, Infrequent Blogger (INT)
From the Shadows
From the TBR Pile
Girls Just Reading
Good choice reading
Hannah Downing
Happy Mom Of 5
Harris Channing, Author of Erotic and Mainstream Romance
Hesperia Loves Books
Hypnotically Entraced
I Just Wanna Sit Here and Read!
IB Book Blogging
icefairy's Treasure Chest
I'd So Rather Be Reading
I'm Loving Books
Immortality And Beyond
Indie Snippets
Insane Hussein Reviews
Intense Whisper
It's a Romance Thing . . . Ryssa Edwards
J. F. Jenkins Writes
J.C. Martin, Fighter Writer
Jennifer DeLucy's Blog
jennifer k jovus
Jennifer Wells, Paranormal Romance Author
Jessica E. Subject, Author
Jill Foltz
JoAnne Kenrick
Just Another Story
Karissa's Reading Review
Kay Dee Royal Paranormal & Erotica Romance Musings
Kay Springsteen: The Romance of Your Life
Keenly Kristin
Kelly's Lucky You
Keta's Keep Romance Blog
KMN Books Blogspot
Kritters Ramblings
Lady Lit Reviews
Lale on Lit
Laura Kaye
Laurie's Thoughts & Reviews
Lee's Musings
Let's Win!
Letters Inside Out
Life, Liberty, and Pursuit of a Blogfest 2011
Lille Punkin' Reviews
Lisa M Potts
Lisa Sanchez Romance Author
Lisa's Loves(Books of Course)
Live To Read ~Krystal
Lori's Reading Corner
Love To Read For Fun
Madame Perry's Salon
Makobi Scribe
Malevolent Musing
Manga Maniac Cafe
Meg Mims, Author
Memoirs Of A Misanthrope
Michelle & Leslie's Book Picks
Michelle's Book Blog
Middle of the Road Reviews
Minding Spot
Missie
Mom vs. the Boys
my disorganized ramblings
My Love Affair With Books
My Reader's Block
My Shelf Confessions
Mysteries and Histories
News and Reviews from the Heart of the Dragons Den
noodleBubble niceBlog
Notorious Spinks Talks Books
Novels On The Run
Oh My Books!
Once Upon A Chapter
One Book Shy of a Full Shelf
One Hot Mess with Laura Harner
Paranormal Wastelands
Patricia Leever
Practical Frugality
Preternatural Primer
Reader Girls
Reading Angel
Recovering Potter Addict
Red Hot Books
Refracted Light Reviews
Rikki's Teleidoscope
Riverina Romantics (INT)
Romantic Love Books
Roof Beam Reader
Roxanne's Realm
Ruby's Reads
Sassy Mama in LA
Seductive Musings
Seven of Magpies
Shameless Romance Reviews
Si, se puede
Simply Stacie
Snarkymamma
Socrates Book Review Blog
Spartan Heart by Author Kristine Cheney
starmetal oak book blog
Still Blonde after all these YEARS!
Supernatural Snark
Sweeping Me
Talking with Tundra
Tall Tales from a Small Town
Taming the Bookshelf
Teens Read and Write
The Book Garden
The Book Nympho
The Book Pushers
The Cozy Reader
The Decadent Side of Sin
The Enchanted Book
The Fictionators
The Smiling Pains of Novelist Destiny Booze
The Tales of Dexter, Nora, and Chloe
The Wannabe Knight
The Write Path
Thoroughly Smitten
Tiffany's Bookshelf
To Read or Not To Read
True Media Solutions
True Media Solutions LLC
Urban Girl Reader
Valerie Mann ~ Where Sweet and Erotic Meet
vvb32 reads
Wendi Zwaduk – Romance to Make Your Heart Race
What Book is That?
What's On the Bookshelf
Writing is a Blessing
Must Read Faster
For Those About to Read…
Once Upon a Twilight!
Livre De Amour-Books of Love Blog
Margaret West
At Home With Books
Aubut Family
Under the Covers
Whilrwind of Surprises
Obsession with Books
Must Read Faster
Therese Gilardi: Beneath The Sunglasses
Hope. Dreams. Life… love
The Wormhole
Kim Bowman Author
Got Romance Reviews Muse
The following two tabs change content below.
Related Posts