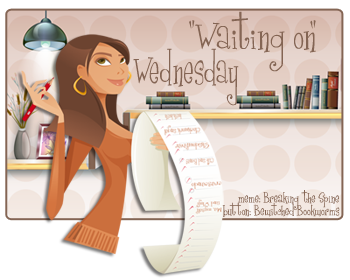 "Waiting on" Wednesday is hosted weekly by
Jill at Breaking the Spine
.
Hello, party people!
It's Pushy and Heather here together today
and we're bringing you a WoW two-fer:
by J.L. Bryan
Release Date: January 1, 2011
Here is the blurb from goodreads:
Dee escapes her dreary librarian job and unfaithful boyfriend by reading romance and fantasy on her Kindle.

She tries a horror novel called The Haunted E-book, but she doesn't like the dark supernatural story, in which the murderous ghost of a 19th century tramp printer awakens whenever someone reads a book he created. The ghost stalks his readers and threatens them with death if they stop reading the book. Though she doesn't usually like horror, Dee can't stop herself from reading it.

Then she learns the horror stories in the book are true, the ghost is real, and Dee might be the next character to die.
by J.L. Bryan
with bonus story by Amanda Hockling
Release Date: TBD, 2011
Here is the blurb from goodreads:
The world of tomorrow is the world of the unknown.

The stories in this collection include:

"Spectrum" – A highly adaptable alien crashes into a Shoney's in Tennessee.

"The Fortune Teller's Lament" – A psychic finds his life slowly ruined by a coin-operated fortune-telling machine.

"The Officefrau" – A strange invasive species is moving into Dave's office.

"The Fixer" – At first, Norton thought he'd found an accounting error. Now he's spending Christmas Eve with a special security agent from his company, and learning he found much more.

"Bad Code" – Donald lost himself deep inside the company network, and now he's trying to put his life back together.

"The Long Night" – A spaceship crew is taking a few hundred million tons of radioactive waste away from civilized space. But there's another kind of evil inside the cargo bay, and it wants out.

PLUS a special bonus story by author Amanda Hocking!
Ok, so I know I'm like a total fangirl for JL Bryan
(Comment from Heather: I'm a fangirl too, but the totally quiet and just stare at you out of the corner of my eye type of fangirl)
, but it's for a reason…he's a fantastic writer. He really knows how to craft a story and he writes characters who I just fall in love with. Plus, when have you read the excerpts above? I mean these sound like some seriously interesting premises which I know Mr. Bryan will bring his A-game to. So when I found that he was publishing not just one but two books next year? Yeah, that high pitch squee you heard? It was me!
Well, that's me girls. Which books are you dying to get your hands on?
Heather poking her head back into the post again: And what has me waiting with much anticipation? If you check out the description for this author's book, Jenny Pox, on Amazon.com, you'll see a nice little phrase that made me clap my hands.
The sequel to Jenny Pox will be available early Summer 2011!
Jenny Pox is the best $2.99 you'll ever spend (for the kindle edition). Check out the review Pushy and I posted here.
Totally agreed!!!
Oh and you are of course welcome to grab and use our Button,
just please cheesy link back to us 😉
The following two tabs change content below.
Related Posts