Truly, we are really really excited about this challenge.
We're pretty sure that there a times during the day
where you can't read,
where you can't hold an actual book in your hands,
am we right?
This might be when driving….
or when working out….
or when doing housework as boring as cleaning/laundry etc…
or when having a walk alone outside….
or even during work?
(It's okay, we won't tell! *wink*)
Of course we are all avid readers and
would love to have time to read even more.
Why not listening to the book instead of reading it?
Simple and oh so easy!
Well we love to listen to a good audiobook!
Which is why we proudly present the…..
Whisper Stories in My Ear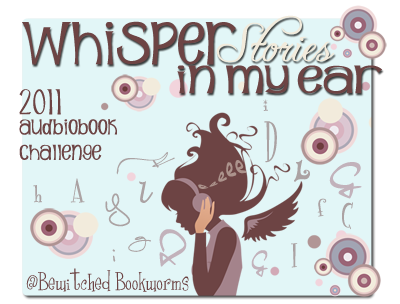 Here is the basic information:
Should you choose to participate in this challenge, your goal is to read at least twelve (12) audiobooks (no matter the length). Twelve is the minimum to be entered in the Grand Prize at the end of the Year.
Of course anyone can join. You just have to live on the planet earth, (meaning, this is an international challenge and contest) and you need to have either a blog where you can post your Reviews, or you need publish your review anywhere else, goodreads, LibaryThing, amazon, Barnes & Nobles, audible, etc etc etc…
Important: When you post your Review you have to say that you listened to the audiobook version of the book, who was the narrator, the length of time the audiobook ran and your separate rating/impression for the audiobook (how you liked the narration of the story beyond what you thought of the story itself). This can be at the end of your regular review, just like this example here.
The challenge runs from January 1st to December 31st, 2011.
You can join at anytime you want!
It doesn't matter what audiobook you are listening to,
no matter the genre or the length!


Challenge Guidelines:
Please create a blogpost announcing your participating, you can include the books you are planning to listen to, but you don't have to. People without a blog just leave a the link to where you will be posting your reviews (i.e. your Goodreads account). Please add the Links to the post in Mr.Linky form below.
Every month, starting in January we have a new post up for you where you can post your Reviews for that month. A Mr Linky form will be up for you.
Although one review is the minimum to be entered, the more reviews you post each month the more chances you get to win the monthly prize. The monthly prizes includes giftcards from where you can buy audiobooks – like Amazon, iTunes, Barnes&Nobles and Audible. Plus, we will also have some MP3 players in the monthly prizes and other stuff that has something to do with audiobooks. You know how we Bookworms like to get creative with the prizes….
You can pick the audiobooks as you go (no need to decide right now), but if you have already an idea what you're planning to listen we would absolutely love to know!
We also made a small Button that you will see
in all of our audiobook reviews going forward.
You're more than welcome to take it
and use it at the bottom of your Review
to show the audiobook section.

Throughout the year, as you add your reviews in,
you'll be eligible for level badges based on how many hours
of audibook listening you've logged.
We'll unveil those images as we go, but the levels are as follows:
100 hours: Whispering My Love
200 hours: Can't Keep Quiet
300 hours: Singing It From The Mountain Tops
400 hours: Megaphone Shout
One challenge not enough for you?
Well, we happen to know that there is a Audiobook Challenge over at
Theresa's Reading Corner
and of course we would be totally happy for you to sign up both Challenges.
Also, the lovely bloggers over at Audiobook Jukebox
compile lists of strictly Audiobook reviews.
Go check them out for a rec or add yours to their list!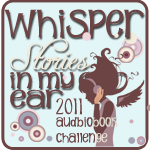 Holidays got your wallet cramped
and you don't have extra cash to buy an audiobook
to start the challenge with?
FEAR NOT!
Many libraries in the US allow their patrons
to check out audiobooks via OverDrive.
And even if your library doesn't,
the Bookworms still have you covered!
Sign up for the challenge before January 1st
and get entered to win an introductory account at Audible
with two free downloads.
Winner will be announce January 1st so you can start listening right away!
You can't beat that with a stick!
So write up your blog post accepting our challenge
and put the link to it along with your name
in the Mr. Linky form below.
Then come back in January
and start posting your reviews in the monthly post!
But most of all….
Have Fun!

The following two tabs change content below.
Related Posts