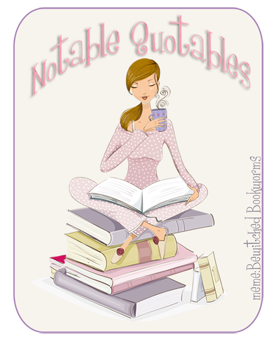 Welcome to Notable Quotables! Not sure exactly what you're supposed to do to be a part of the meme? Check out our first post
here
.
Notable Quotables is a meme we started here at Bewitched Bookworms to share some of our favorite quotes in the books we've been reading. We think it is a fun way to find out a bit more about each other as book bloggers and to share everything from great snarky zingers to sigh inducing avowals of love.
Anyone can participate in this meme and it really can be any quote from any book, no matter the genre. So get creative and share something fun!
Here's our quote for the week,
from
The Iron Queen
by Julie Kagawa
release date: February 1rst by Harlequin Teen
goodread
s



"I was dead inside for so long. Not existing didn't seem any different than what I was doing". He buried his face in my shoulder, and I shivered. "It's different now, though. I have something to fight for." (..) His lips touched my hair, very lightly. "I won't let anything happen to you," he murmured.
"You are my heart, my life, my entire existence"
I was sobbing when I read this! This quote shows why I love The Iron Fey saga from Julie Kagawa so much. It's magic it's epic but it's also so heartbreakingly wonderful! The forbidden love between Ash and Meghan was what hold me captive from the very beginning. Ash is dark, brooding, possessive and Oh so sexy and I have a serious crush on him… When reading this quote above my heart was melting and tears were falling. I say it again and again … if you haven't start The Iron King yet, then start now.
If you'd like to share your Notable Quotable post, please be sure to sign the link list below!
For example:
Name: Bewitched Bookworms
URL: http://www.bewitchedbookworms.com/notable-quotables-10.html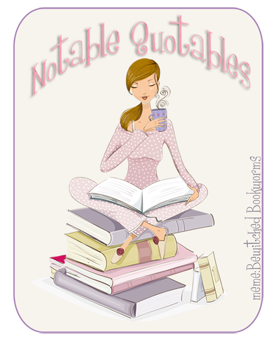 Feel free to use our button if you like
(you can just grab the code above).
Or if you prefer, make your own!
Have a wonderful Saturday!

The following two tabs change content below.
Related Posts