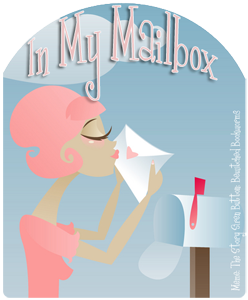 (You're welcome to grab and use our Button, just please link back to us)
Weekly meme from
The Story Siren
. The idea is to post the books you got this week,whether you bought them, got them as a gift, from the library, or received them to review.
Happy Sunday. Heather here again, and I'm writing this from our SUV after a fun-filled day of visiting the in-laws.  (All book descriptions and links are to Goodreads)
Let's start with the books I've received for review. The first one is Ryder by Greta Maloney. You may know Greta from the book blog Paranormal Wastelands.
[box type="shadow"]Everyone has a secret.
You're lying if you don't.
Fourteen year old Piper has tried to keep her secret hidden.
Everyone who finds out always winds up dead.
Only the man in the dark suit knows the truth.
A man she only met once.
The man who made her what she is today.
The man who bit her.
But that's all about to change.
Piper Glendale is on the run from the moon as her secret Sister Wolf wars with her. Fighting for control, Piper tries to keep her buried deep inside. But sometimes her sister breaks free.
Escaping from an institution, The Sister Wolf claws her way out. On the run her powerful body runs dry. The sun has finally risen. Piper has regained control.
Awaking in a cemetery, she prowls through the grave stones in search for food and shelter. Overlooking a hill, Piper sees a boy. A boy who is about to change her life. A boy in a faded red hood.
Based on the beloved children's classic Little Red Riding Hood, "Ryder" is a modern retelling with a twist.[/box]
I'm about a third of the way through this one already, and I'm really enjoying this one. The writing is beautiful, the fairy tale retelling isn't predictable and is twisted in such a lovely way. And at only $0.99, it's well worth every cent.
The second book that I received for review Twisted Vengeance by Jeff Bennington.
[box type="shadow"]From the author of REUNION, an Amazon #1 bestselling supernatural thriller!
Detective Rick Burns is far from normal. Yeah, he's smart, and he has a keen eye, but he is tormented from his past. After a series of personal tragedies, the pain that Rick has held inside is about to spill out.
Rick's wife left him after the death of their son, he's in love with the one woman he can't have, and he's investigating a slew of unsolved, greusom murders. When a creepy boy begins "haunting" the detective, his life starts spinning out of control. He doesn't know if he's seeing things, going crazy, or if he's the killer.
But the boy knows. He's knows Rick. And he knows the maniacal serial killer who's preying on domestic abusers. In an attempt to unearth the murderer, the boy ushers Rick into a terrifying chase where reality and the supernatural are blurred, nearly costing him his life, his love, and his reputation.
The question is, will Rick finally find the peace he's been looking for, or does fate have something else in store for the detective? Find out in Book 1 of the Twisted Series by Jeff Bennington.[/box]
I loved Jeff's book Reunion, and I've been enjoying this one so far.
Pushy and I attended the Breathless Reads stop at our local Indie Bookstore, Anderson's Bookshop in Naperville several days ago. While I got my copies of Across the Universe and A Millions Suns signed by Beth Revis, I bought a copy of Born Wicked by Jessica Spotswood and got it signed too.
[box type="shadow"]Everybody knows Cate Cahill and her sisters are eccentric. Too pretty, too reclusive, and far too educated for their own good. But the truth is even worse: they're witches. And if their secret is discovered by the priests of the Brotherhood, it would mean an asylum, a prison ship–or an early grave.
Before her mother died, Cate promised to protect her sisters. But with six months to choose between marriage and the Sisterhood, she might not be able to keep her word… especially after she finds her mother's diary, uncovering a secret that could spell her family's destruction. Desperate to find alternatives to their fate, Cate stars scouring banned books and questioning rebellious new friends, all while juggling tea parties, shocking marriage proposals, and a forbidden romance with the completely unsuitable Finn Belastra.
If what her mother wrote is true, the Cahill girls aren't safe. Not from the Brotherhood, the Sisterhood — not even from each other.[/box]
I didn't get this one personalized when the author signed it, so I'll be giving this away on Bewitched Bookworms once I've read and reviewed it.
To continue my streak of shopping at an actual brick and mortar store, my sister and I went to our local Barnes and Noble while we waited for our screening of The Woman in Black to start (Great horror movie, btw). I picked up a Valentine's Day present for my husband, Tucker Max's Hilarity Ensues.
[box type="shadow"]HILARITY ENSUES
Tucker Max's third and final book in his series of stories about his drunken debauchery and ridiculous antics. What began as a simple sentence on an obscure website, "My name is Tucker Max, and I am an asshole," and developed into two infamously genre-defining books, I Hope They Serve Beer In Hell and Assholes Finish First, ends here.
But as you should expect from Tucker by now, he is going out with a bang—literally and figuratively. In this book, you'll learn:
* How to live and work in Cancun, while still enrolled in Law School,
* Why Halloween is really awesome,
* How to subtly torture a highstrung roommate until he explodes with furious anger over a misplaced condiment,
* What really happened when a dirty pageant girl tried to sue Tucker because he told the truth,
* Why you should never accept a homemade treat from a hippie with a van, and
* What happens when Tucker turns sexting into a sport.
He's still Tucker Max, and—for one more book—he's still an asshole.[/box]

Now, I've only seen my husband read two whole actual books in the almost twenty years we've been together. One was about Bears football player Walter Peyton and the other one was about Motocross legend Jeremy McGrath, so I knew that hubs' taste in literature ran towards sports nonfiction. I actually turned him on to Tucker Max back when he was still a blogger and before his other book came out and became the movie, I Hope They Serve Beer In Hell. So I knew that hubs would probably enjoy this book. And devour this book, he did–so fast, in fact, that I turned around and ordered two of Tucker Max's other books off of Amazon for hubs. But I will read these too, even though I cringe through most of his stories, they are hilarious at the same time.
So that's what's in my mailbox? Have you bought books as a gift for your significant other before and what were the results? Most awesome gift ever or did was it used to fix a wobbly table leg?
The following two tabs change content below.
I'm a PhD chemist who loves sarcasm, music, and books-paranormal, mystery, thriller, suspense, horror, and romance. Most of my free time is spent at the martial arts studio these days--whether practicing Combat Hapkido or reading books while watching my son's Taekwondo classes, or even working up a sweat with Kickboxing for fun.
Goodreads
Related Posts