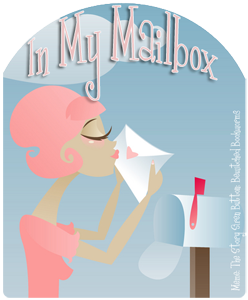 (You are so welcome to grab and use our Button, just please link back to us –
Weekly meme from
The Story Siren
. The idea is to post the books you got this week,whether you bought them, got them as a gift, from the library, or received them to review.
Hello, everybody. *Heather Waves*S'up? Long time no speak. But just because I've been a little quiet around here doesn't mean that I haven't had a steady stream of books coming my way.
I preordered JR Ward's latest in the Black Dagger Brotherhood,
Lover Unleashed
(
Amazon
,
Goodreads
,
Barnes and Noble
). I really wanted to start this book on my daytrip to Minnesota for work on Tuesday, but just couldn't lug this 489 pager along with all of my paperwork. It's calling to me…Heather….Read Me….I promise to not take up too much of your purse space…..
I'm pretty sure I preorder
The Twilight Saga: The Official Illustrated Guide
(
Amazon
,
Goodreads
,
Barnes and Noble
) over two years ago. I was pretty surprised to get the shipping email for this from Amazon. I've leafed through it and it looks interesting, but honestly a lot of this I've already seen in various spots on the internet. Just give me the damn
Midnight Sun
already.
I received
The Peach Keeper
(
Amazon
,
Goodreads
,
Barnes and Noble
) as part of another blog tour by TLC Book Tours. This is the book that made its way to Minneapolis and back. I fell in love with this book pretty easily and my book review will be up tomorrow for the book tour stop!
I got
The Ghost of Greenwich Village
(
Amazon
,
Goodreads
,
Barnes and Noble
) as another book tour by TLC Book Tours. The description looks pretty good so I'm giving this debut author a shot. This will be on sale June 28, 2011.
Have you read any of these books? I'm feeling the Brothers calling my name…
The following two tabs change content below.
Related Posts