We love a good meme! Not only is it a fun way to learn more about our fellow book bloggers (what books they're waiting on, what books they've gotten in their mailbox, etc.) but it's a great way to find new bloggy friends! And we thought that we might start one of our own: something simple, something quick but something fun (because that's how we Bookworms roll!).
So, behold our new meme….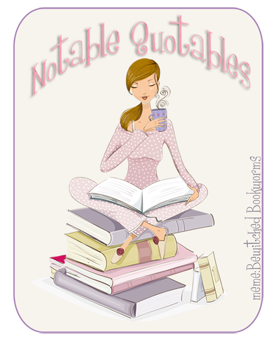 Simply grab the Button and add it to your post,
but feel free to create your own Button
Here's how Notable Quotables works:
1. Every week we'll post a quote, say what book you got it from, who the author is and why you chose it. Preferably posts will be made every Saturday, but feel free to choose a day that works best for you.
2. Everyone that agrees to participate will try to visit each other's list and leave comments!
3. Everyone is welcome to join, whenever you feel like you have a quote you want to share.
4. Be sure to sign the Mr. Linky Widget (each Saturday there will be a new one) so that others can easily find your "Notable Quotables" post! You can name your post"Notable Quotables", but of course you don't have to!
5. Link back here, to Bewitched Bookworms, on your Notable Quotables post, so that other people can find more information about NQ.
And here's our's:
"I'd heard every word she had said, but I only knew one thing. I was all in."
Ethan, page 193
Beautiful Creatures
by Kami Garci and Margaret Stohl
I picked this quote because it succinctly captures that moment in which a person falls in love, be it with another person or a book. When I read this line I just knew I was in love with the world that Kami Garcia and Margaret Stohl had created.
So that's ours.
We are looking forward reading the quotes you gonna pick!
Have a wonderful Saturday!

The following two tabs change content below.
Related Posts