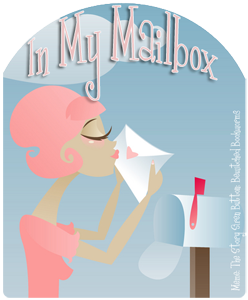 Weekly meme from
The Story Siren
. The idea is to post the books you got this week,whether you bought them, got them as a gift,from the library, or received them to review.
Hey there, Heather here again. I have a couple of books that I had preordered from Amazon.com show up on my doorstep. Plus, I won a book from Goodreads and got four from publishers for review.
I preordered LJ Smith's last book in The Vampire Diaries series,
The Return: Midnight.
The last book was a bit confusing, so I have high hopes that this one is better.
I also preordered Carrie Ryan's final installment in her zombie series,
The Dark and Hollow Places.
Pushy and I had the opportunity to meet her at a signing again, so we went and now our collections of this series are completely signed. Carrie is such a wonderful woman and great to listen to!
I won a book from Goodreads,
The Strange Man
by Greg Mitchell. This is book one in
The Coming Evil Trilogy
and the cover is super creepy. I can't wait to step into his demonic world. It's been awhile since I've read about demons.
The next two books I received from the author/publishers. First up is an anthology edited by Justin Gustainis entitled
Those Who Fight Monsters, Tales of Occult Detectives.
This book combines the best of both worlds for me, mysteries and paranormal, with fourteenshort tales. The authors included are Laura Anne Gilman, Julie Kenner, Simon R. Green, Lilith Saintcrow, Carrie Vaughn, Justin Gustainis, T. A. Pratt, Tanya Hugg, Chris Marie Green, Caitlin Kittredge, C.T. Adams and Cathy Clamp, Jackie Kessler, C. J. Henderson, and Rachel Caine.
I received
Warm Bodies
in the mail from
Regal Literary
. This book from Isaac Marion has already been released in the U.K. and is making it's debut in the U.S. I'm excited to read this book about a young zombie as he tries to live in the normal world and love with a human.
Finally, I've received two eARCs from Indie Authors that I absolutely love. Scott Nicholson gave me his next release, Liquid Fear. I'm almost finished with this wicked tale of pharmaceutical research gone wrong when the lead researcher has no moral compass and plays God with his test subjects. Scott will be stopping by this blog on April 1 for a guest post.
J.L. Bryan offered Pushy and I a copy of the sequel to Jenny Pox, Tommy Nightmare. I'm so excited about this book that I didn't hesitate to email him back and say "Hell, yeah I want a copy of that!" And FYI, it's hard to type on a touch screen phone when you're wearing nitrile gloves for work. Anyway, I can't wait to dive into this book. I'm really eager to see what happens when the opposite of the big evil from the first book, Ashleigh, shows up in Seth and Jenny's life.
So there's my mailbox for the past few weeks. Every single one of these covers is hauntingly beautiful. What did you get in your mailbox?
Happy Reading.